YOUTH ARE OUR FUTURE SCHOLARSHIP PROGRAM
For the second year, Minnesota Pinto offered $100 scholarships to high point youth at each of our regular shows of the season. The top earning youth and pinto team from Youth Pony/Mini, Youth Pleasure/Saddle, Stock/Hunt 13/U and Stock/Hunt 14-18 at the May, July and September shows are each awarded with a scholarship to be redeemed for educational pursuits. This year, we had many eligible teams, thanks to a very active youth group! Congratulations to our 2016 YOUth Are Our Future scholarship winners: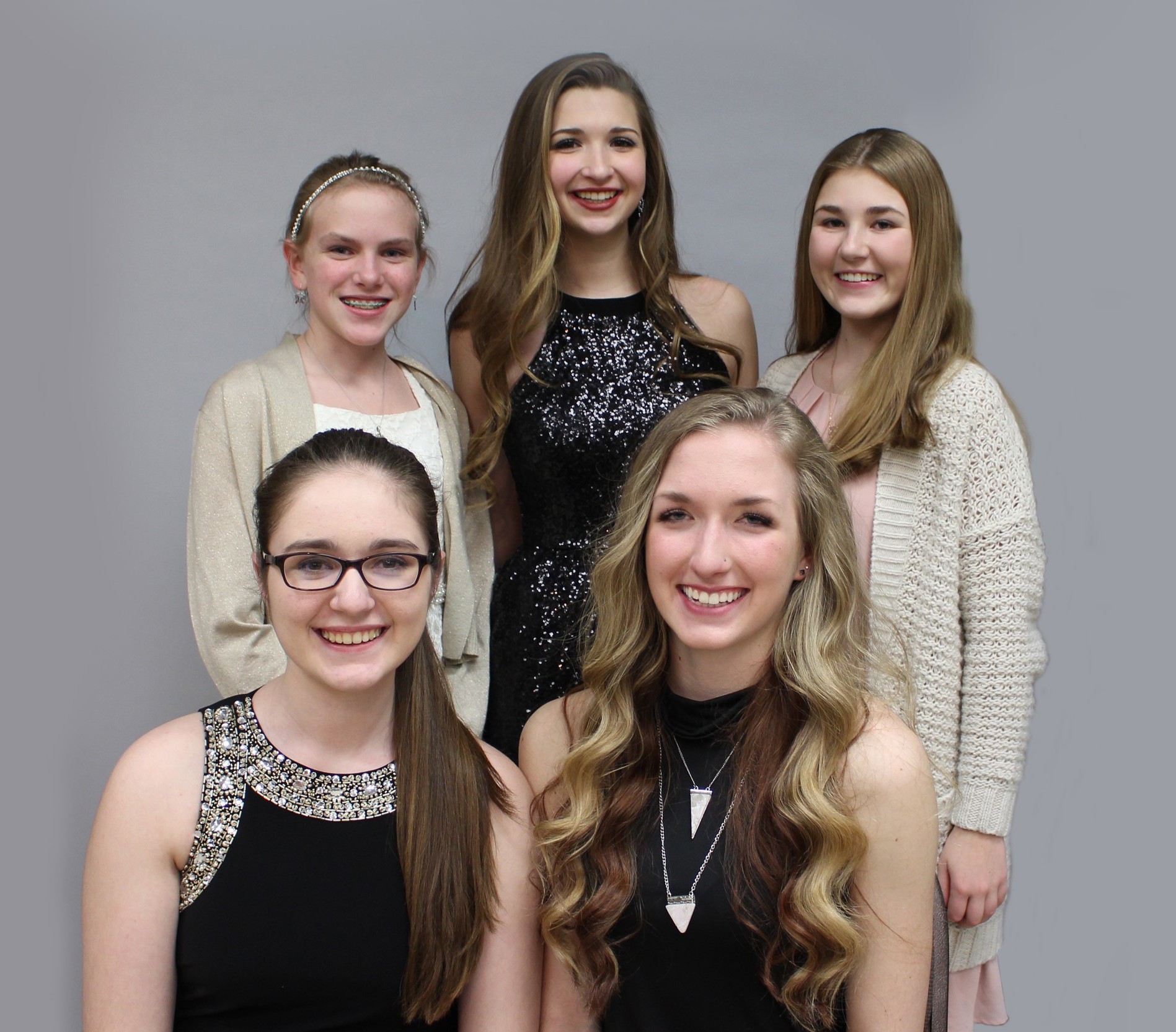 Back row: Hannah Filek, Lucy Lewis, Lauren Demchuk
Front row: Courtney Lynch and Kira Stetler
Not pictured: Alyssa Frickson and Mia Haskins
Spring Fling Show:
Youth Pony/Mini 18&U – Lauren Demchuk & Chocolate Chip Kisses
Youth Pleasure/Saddle 18&U – Courtney Lynch & LA Extireme Momentum
Youth Stock/Hunt 13&U – Mia Haskins & Dirtonmypeaches
Youth Stock/Hunt 14-18 – Alyssa Frickson & Cincos First Impulse
Carnival of Color Show:
Youth Pony/Mini 18&U – Lauren Demchuk & Chocolate Chip Kisses
Youth Pleasure/Saddle 18&U – Kira Stetler & Fames Wildcard PA
Youth Stock/Hunt 13&U – Hannah Filek & Peppers Blueeyesimon
Youth Stock/Hunt 14-18 – Lucy Lewis & Im Axle Rose
Last Blast Show:
Youth Pony/Mini 18&U – Lauren Demchuk & Chocolate Chip Kisses
Youth Pleasure/Saddle 18&U – Kira Stetler & Fames Wildcard PA
Youth Stock/Hunt 13&U – Hannah Filek & Peppers Blueeyesimon
Youth Stock/Hunt 14-18 – Lucy Lewis & Im Axle Rose
Congratulations to all our "YOUth Are Our Future" Scholarship winners!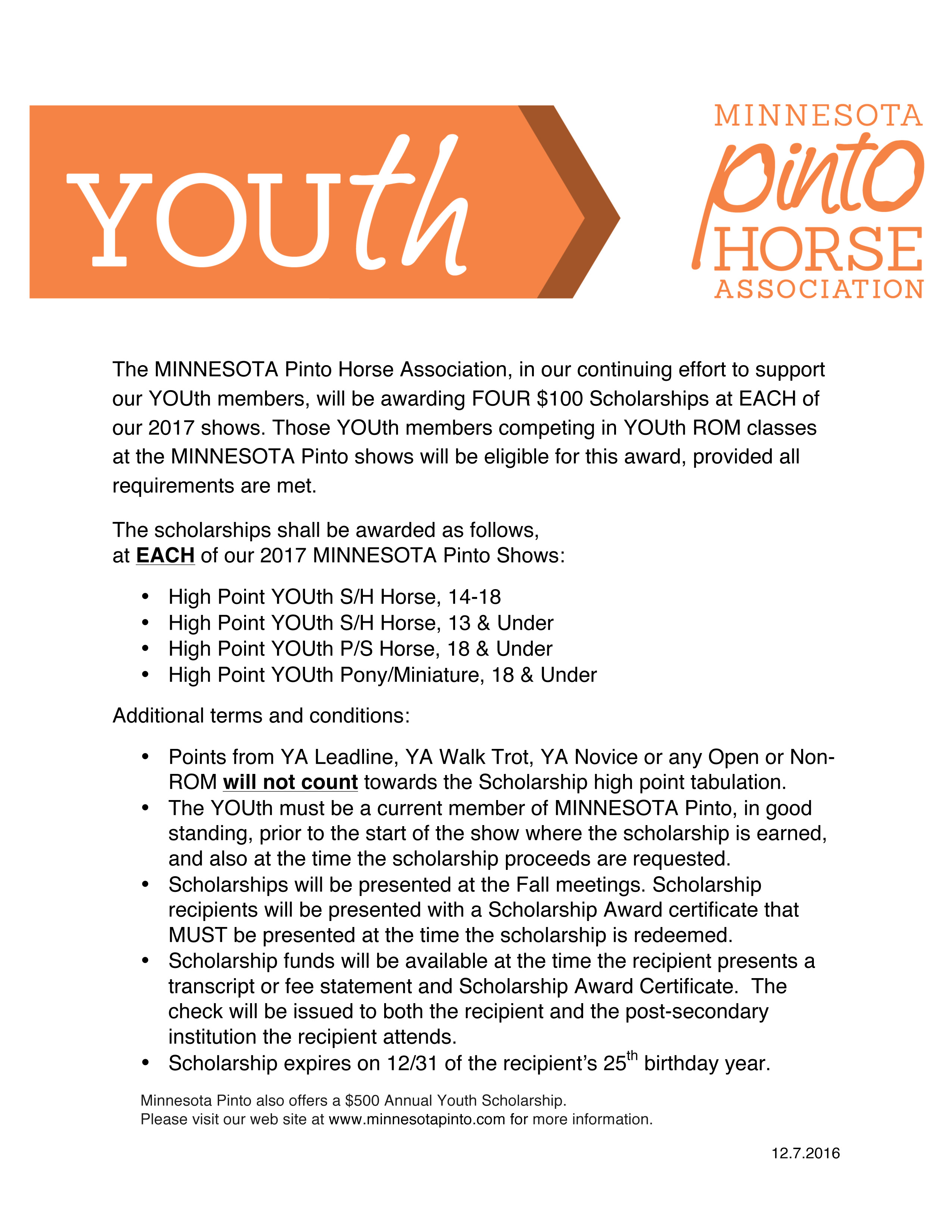 ANNUAL YOUTH SCHOLARSHIP
DESCRIPTION
At least one $500 educational scholarship is offered annually by the Minnesota Pinto Horse Association to an eligible youth team member. Should fundraising and donations make additional scholarships possible, the Board of Directors may award additional scholarship(s) based on available funds.
ELIGIBILITY
Applicant must be a current Minnesota Pinto Youth member.
Applicant must be a graduating high school senior intending to attend a post-secondary educational institution or currently enrolled in an accredited post-secondary educational institution at time of application.
GENERAL SELECTION CRITERIA
Equine interest and/or background
Minnesota Pinto involvement/leadership/volunteerism
Leadership qualities
Scholarship/academic achievement
Sense of direction in furthering education
2017 Recipient
Due to fundraising by the Youth Team and the generosity of our members, we were able to offer a second scholarship for $500!
Previous Recipients
2016 – Katy Morrison & Courtney Lynch
2015 – Hannah Lochner
2014 – Maddi Miller
2013 – Hannah Lochner
2012 – Brayanna Bergstrom
2011 – KaLeigh Berg
2010 – Tanner Bauman
2009 – Christine Whittier
2008 – Tyne Hovda
2007 – Tyne Hovda
2006 – Tegan Buckley
2004 – Laura Stylski
2002 – Jessica Stylski
2001 – Jessica Stylski
2000 – Kirsten Caskey
1999 – Abby Neu
1998 – Abby Neu
1997 – Elisha Poppitz
1996 – Tina Volby
GENERAL INFORMATION
Application materials are due to MPtHA Secretary by January 15 of current year.
Applications will be reviewed and scholarship awarded by the current MPtHA Officers and Board. Any Officer or Board Member who's immediate family member is an applicant will not participate in the selection of the scholarship recipient.
Scholarship recipient will be announced at the Annual Awards Banquet.
All applications become the property of Minnesota Pinto.
Apply by submitting the following information in typed form:
a) Name
b) Address
c) Phone
d) Date of Birth
e) Name and address of school you will be attending
f) Present educational status (High School Graduate, College Freshman, etc.)
g) Major field of study
h) Scholastic grade point average
i) Describe your past & present involvement with horses, the horse industry, & Minnesota Pinto
j) State your educational achievements
k) Describe any leadership experience, extracurricular activities, including honors or awards received
l) State your reasons for deciding to study in your chosen field, your future education and occupational goals, and how this scholarship will help you achieve them
m) Sign and Date the Application
Return completed application postmarked by January 15 of current year to MPtHA Secretary:
KaLeigh Berg
22505 Dairy Avenue
Winsted, MN 55395
Submissions preferred via kaleighberg3@icloud.com
Check will be issued to the designated educational institution in the name of the recipient, or paid directly to the recipient when copies of paid tuition/expense receipts are presented to the Treasurer.
CATHY JOSTAD MEMORIAL YOUTH SCHOLARSHIP
DESCRIPTION
The Cathy Jostad Family is offering a $500 educational scholarship annually to an eligible youth team member.
Cathy was a lifelong horse enthusiast and was active in 4H for many years. She raised and showed Arabian horses. She was an active member of the North Dakota Arabian Horse Association and FM Mounted Posse. In most recent years, Cathy was active in the North Dakota and Minnesota Pinto Horse Association. Cathy showed horses with her family all around the region and country, winning multiple national and world titles. One of her greatest joys was sharing her passion for horses with her grandchildren, Brooke and Zac.
Children were very important to Cathy, as she was both an educator and drove school bus for over 30 years.
This $500 Scholarship will be awarded in 2015, 2016, 2017, and 2018, and will be based on the same criteria as the MPtHA $500 Annual Youth Scholarship.
2017 Recipient
Previous Recipients
2016 – Kira Stetler
2015 – Courtney Lynch