Minnesota Horse Council Horse of the Year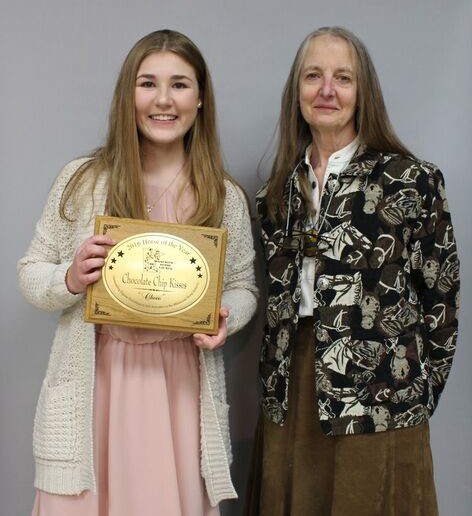 Chocolate Chip Kisses received the MN Horse Council Horse of the Year and Trina Joyce came to present the award to Lauren Demchuk and Chocolate Chip Kisses at our banquet
A program honoring and remembering horses in Minnesota. These horses have special qualities, they teach the industries beginners or intermediate level horses that advance riders into disciplines. They can be lesson, therapy, camp or trail horses that have been in service for 5 years. With a minimum age for a living horse of 17 years.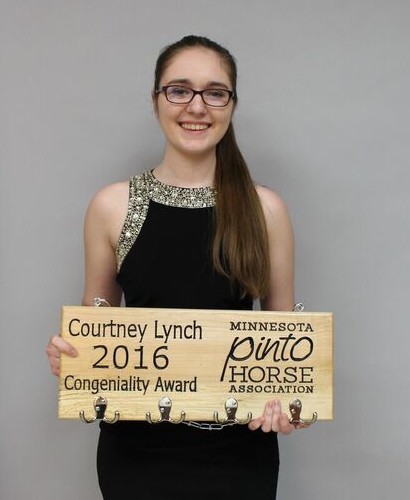 Congratulations to Courtney Lynch on winning the 2016 Ms. Congeniality Award!!
Mr/Miss Congeniality is the person who has gained the respect and admiration of the other MN Pinto Youth, who voted for him/her as the most friendly, social person and gets along with everyone. This person exhibits positive attitude, willingness to volunteer for youth activities, welcomes new youth members and helps to promote the MN Pinto Youth program.
Rules: On the youth election ballots, there will be a write in vote for this award. The award will go to the youth with the highest number of votes. A drawing will take place in the event of a tie.
Kylene Nelson Memorial Award Winners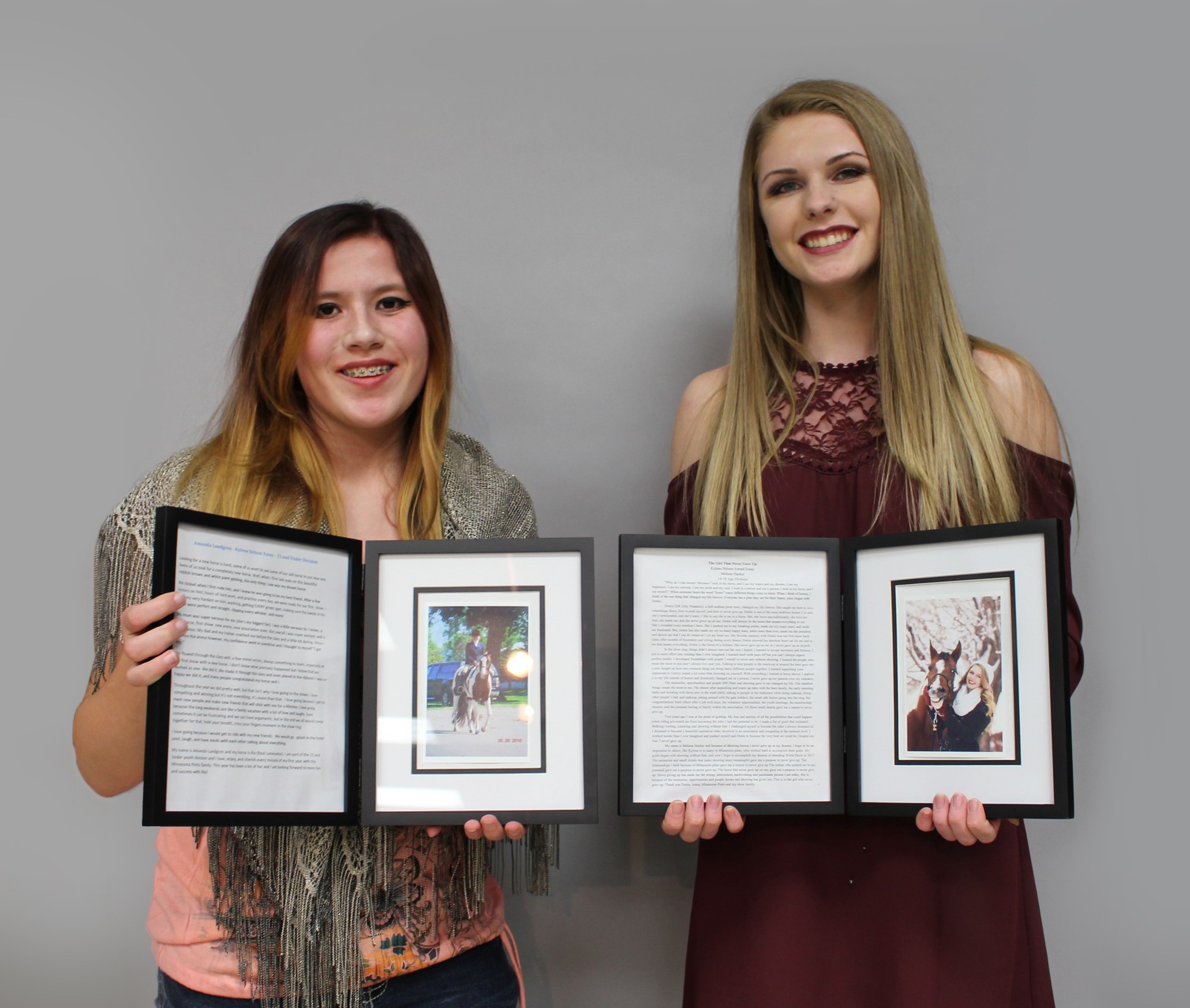 Congratulations to Amanda Lundgren (13/U Division) & Melissa Hacker (14-18 Division)!!
The Kylene Nelson Memorial Award is a special award in memory of Kylene Nelson. To Kylene, horses and showing was about much more than winning a ribbon. It was dinners with family and friends, responsibility, preparation, relationships with horses and humans, competition and just getting out there and doing/trying it. To help keep her wonderful spirit alive, the Nelson family is sponsoring an award in her memory.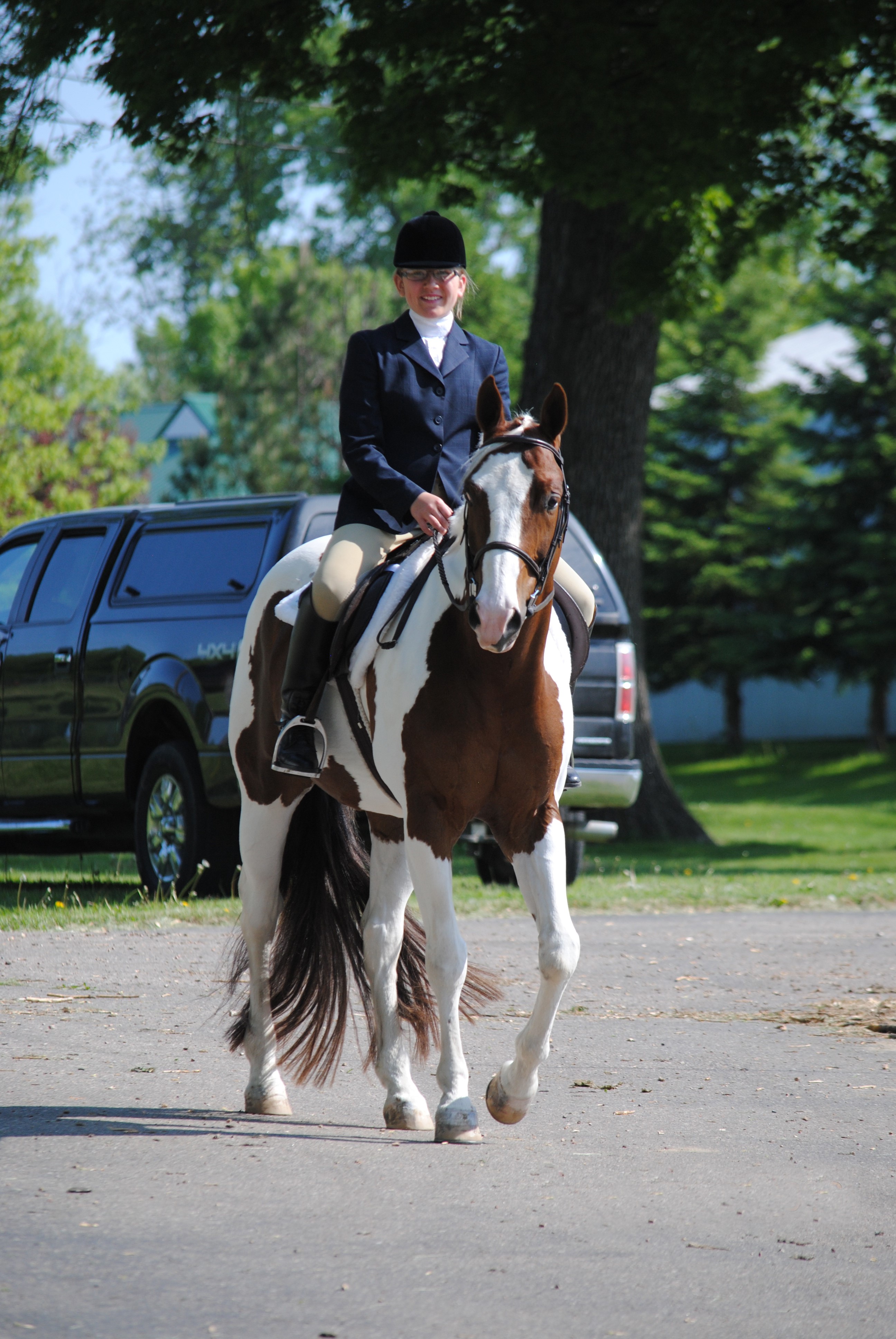 Amanda Lundgren's 13/U Division Essay:
Looking for a new horse is hard, some of us want to see some of our old horse in our new one. Some of us look for a completely new horse. Well, when I first laid eyes on this beautiful reddish brown and white paint gelding, the only thing I saw was my dream horse.
We clicked when I first rode him, and I knew he was going to be my best friend. After a few lessons on him, hours of hard work, and practice every day, we were ready for our first show. I tried my very hardest on him, washing, getting EVERY green spot, making sure the bands in his mane were perfect and straight, clipping every whisker, and more!
My mom was super nervous for me (she's my biggest fan). I was a little nervous too, I mean, a new horse, first show, new arena, new association even. But overall I was super excited, and a lot nervous. My dad and my trainer coached me before the class and a little bit during. Once I got into the arena however, my confidence went in overdrive and I thought to myself "I got this."
We flowed through the class with a few minor errors, always something to learn, especially at the first show with a new horse. I don't know what precisely happened but I know that we worked as one. We did it. We made it through the class and even placed in the ribbons! I was so happy wee did it, and many people congratulated my horse and I.
Throughout the year, we did pretty well, but that isn't why I love going to the shows. I love competing and winning but it's not everything, it's more than that. I love going because I get to meet new people and make new friends that will stick with me for a lifetime. I love going because the long weekends are like a family vacation with a lot of love and laughs. Sure, sometimes it can be frustrating and we can have arguments, but in the end, we all would come together for that, hold your breath, cross your fingers moment in the show ring.
I love going because I would get to ride with my new friends. We would go splash in the hotel pool, laugh, and have meals with each other talking about everything.
My name is Amanda Lundgren and my horse is Rio (Real Lonesome). I am part of the 13/Under Youth Division and I love, enjoy, and cherish every minute of my first year with the Minnesota Pinto family. This year has been a lot of fun and I am looking forward to more fun and success with Rio!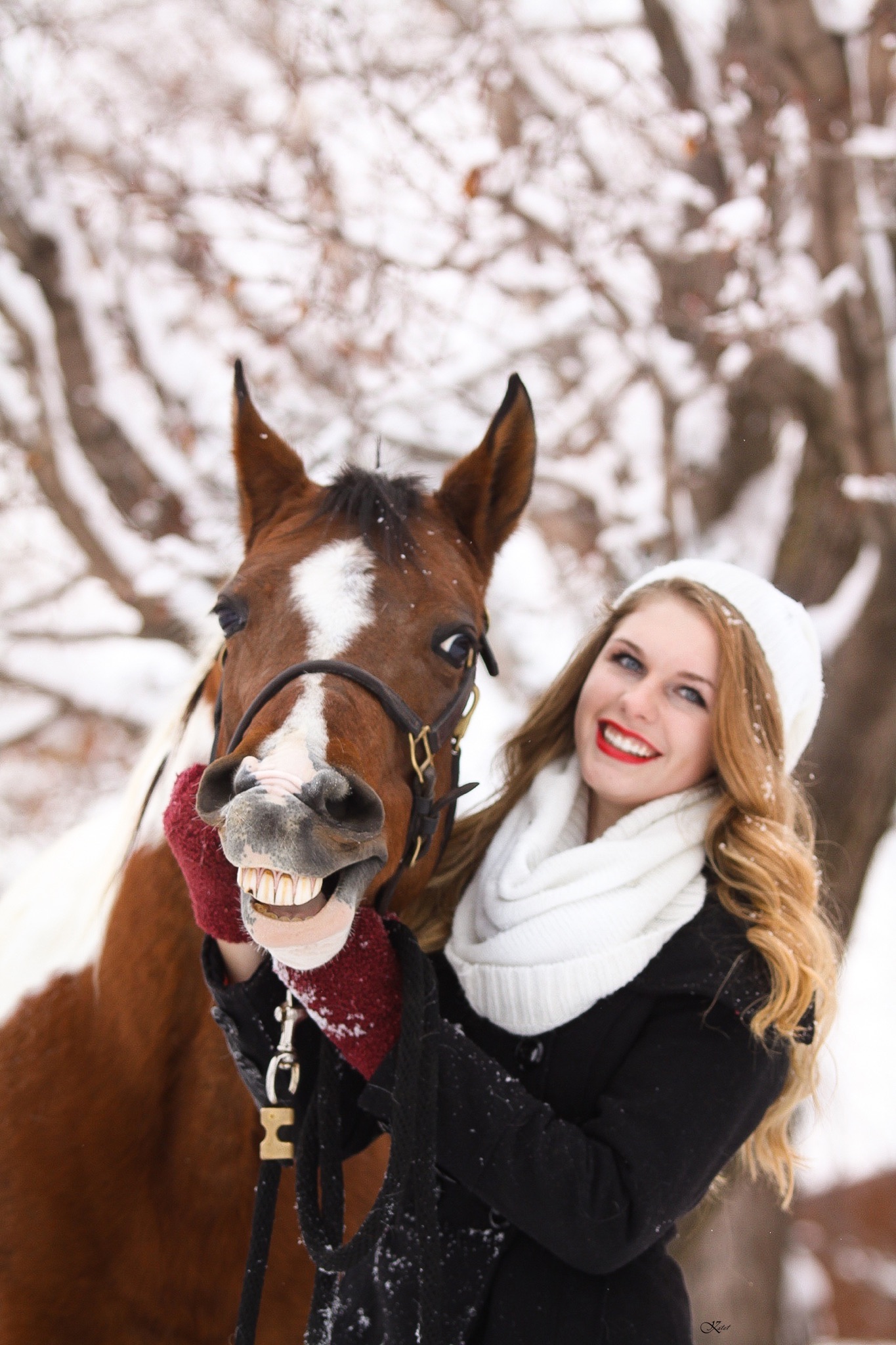 Melissa Hacker's 14-18 Division Essay:
The Girl That Never Gave Up
"Why do I ride horses? Because I look at my horse, and I see my hopes and my dreams. I see my happiness. I see my success. I see my pride and my soul. I look in a mirror and see a person, I look at my horse and I see myself." When someone hears the word "horse" many different things come to mind. When I think of horses, I think of the one thing that changed my life forever. Everyone has a plan they see for their future, mine began with Dottie.
Dottie (DR Gilty Pleasures), a half-Arabian pinto mare, changed my life forever. She taught me how to love something's flaws, how to push myself, and how to never give up. Dottie is one of its most stubborn horses I've met, she's opinionated, and she's sassy. I like to say she is me in a horse. But, she loves unconditionally, she tries her best, she trusts me, and she never gives up on me. Dottie will always be the horse that means everything to me. She's revealed every emotion I have. She's pushed me to my breaking points, made me cry many tears, and made me frustrated. But, Dottie has also made me cry so many happy tears, smile more than ever, made me the proudest, and shown me that I can do whatever I set my heart too. My favorite memory with Dottie was our first show hack class, after months of frustration and crying during every lesson, Dottie showed her absolute heart out for me and to me that meant everything. Dottie is the horse of a lifetime. She never gave up on me so I never gave up on myself.
In the show ring, things didn't always turn out the way I hoped, I learned to accept successes and failures. I put in more effort into training than I ever imagined. I learned hard work pays off but you can't always expect perfect results. I developed friendships with people I would've never met without showing. I learned the people who mean the most to you don't always live near you. Talking to new people in the warm-up or around the barn gave me insight on how one common thing can bring many different people together. I learned supporting your opponents to victory meant a lot more than focusing on yourself. With everything I learned at horse shows, I applied it to my life outside of horses and it drastically changed me as a person. I never gave up my passion over my mistakes.
The memories, opportunities and people MN Pinto and showing gave to me changed my life. The smallest things meant the most to me. The dinner after unpacking and warm up rides wit the barn family, the early morning baths and bonding with those also in the wash stalls, talking to people in the bathroom while doing makeup, doing other people's hair and makeup, joking around with the gate holders, the small talk before going into the ring, the congratulations from others after a job well done, the volunteer opportunities, the youth meetings, the membership dinners, and the constant feeling of family within the association. All these small details gave me a reason to never give up.
Two years ago, I was at the point of quitting. My fear and anxiety of all the possibilities that could happen when riding prevented me from becoming the rider I had the potential to be. I made a list of goals that included; walking, trotting, cantering and showing without fear. I challenged myself to become the rider I always dreamed of. I dreamed to become a beautiful equitation rider, involved in an association and competing at the national level. I worked harder than I ever imagined and pushed myself and Dottie to become the very best we could be. Despite my fear, I never gave up.
My name is Melissa Hacker and because of showing horses I never gave up on my dreams. I hope to be an inspiration to others, like Kylene is to many in Minnesota Pinto, who worked hard to accomplish their goals. My goals began with showing without fear, and now I hope to accomplish my dreams of attending the World Show in 2017. The memories and small details that make showing more meaningful gave me a purpose to never give up. The relationships I built because of Minnesota Pinto game me a reason to never give up. The trainer who pushed me to my potential gave me a purpose to never give up. The horse that never gave up on me, gave me a purpose to never give up. Never giving up has made me the strong, determined, hardworking and passionate person I am today, this is because of the memories, opportunities and people, horses and showing has given to me. This is to the girl who never gave up. Thank you, Dottie, Jenna, Minnesota Pinto and my show family.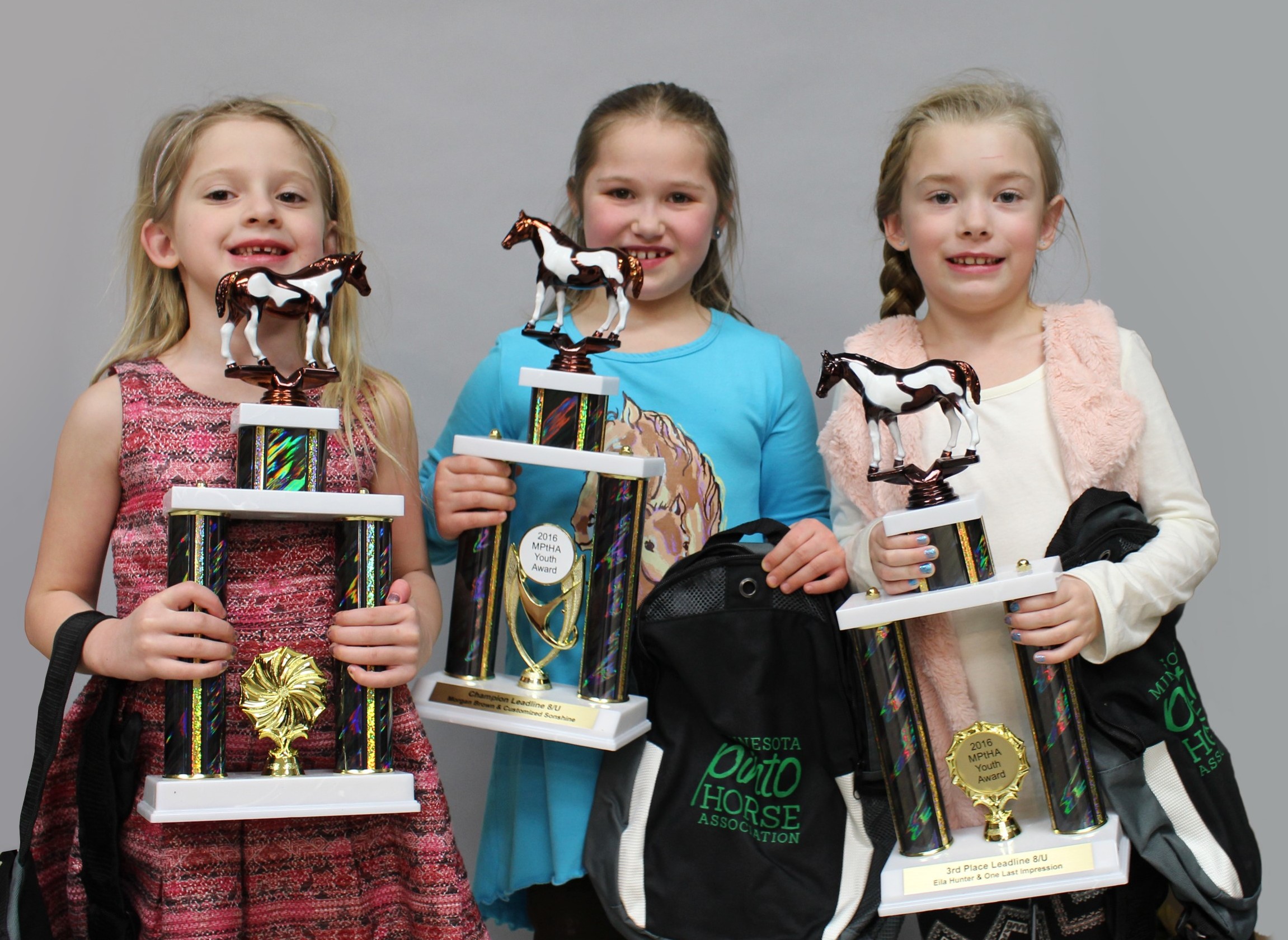 We're proud of our up and coming exhibitors, they're our future!!
Congratulations to Adalee Ordorff & Just Let Me Sleep, Morgan Brown & Customized Sonshine and Ella Hunter & One Last Impression. Not pictured: Brooke Schwab & BCM Sonnys Misty Night, Chloe Ratajczak & Out For Justice and Harriet Pettitt & True Blue Hero.
Youth National Award Winners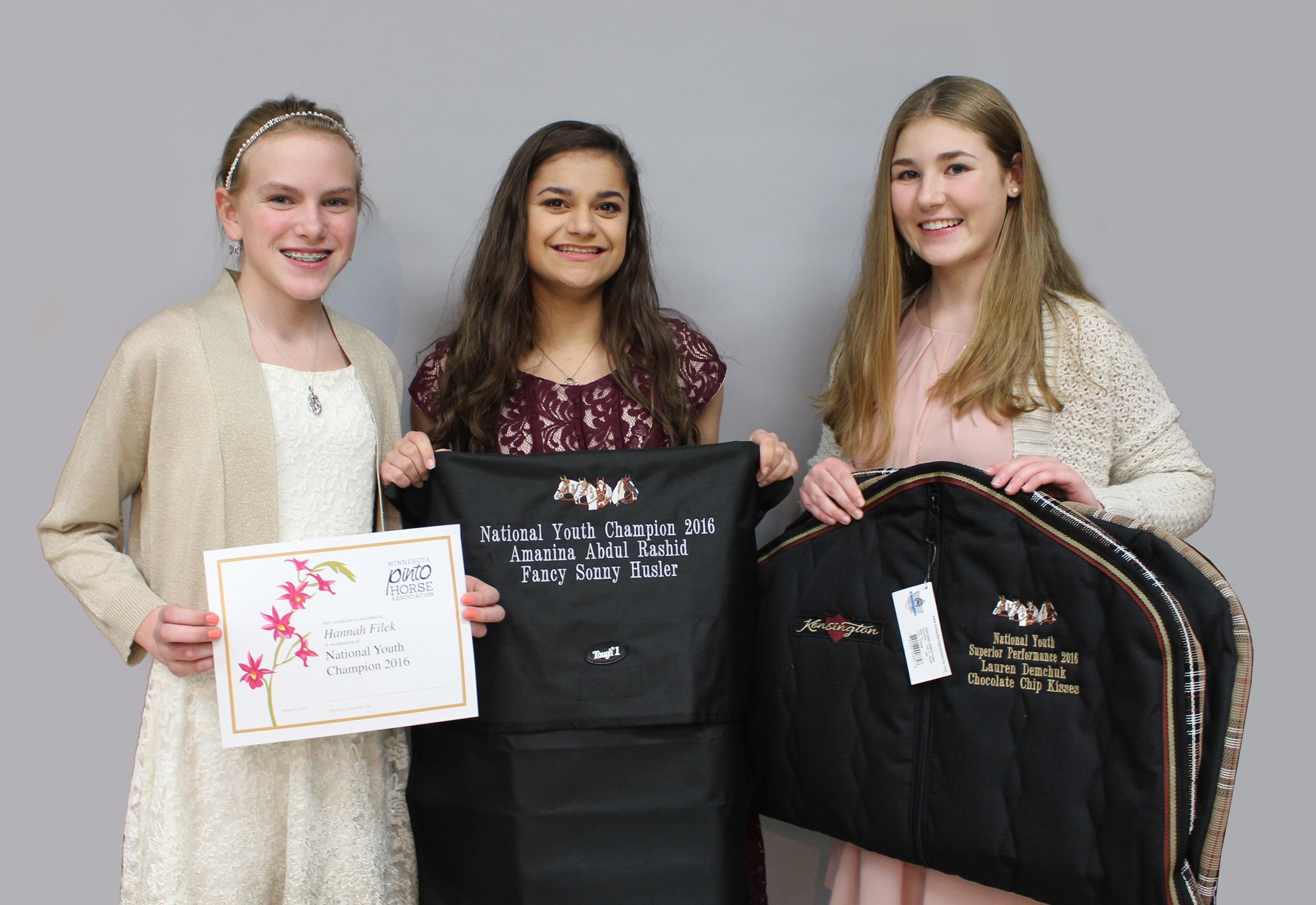 Congratulations to our Youth Champions: Hannah Filek, Amanina Abdul Rashid and Superior Performance Champion: Lauren Demchuk!!
Youth Champions not pictured: Airika Bowman and Madi Thorkildson