Lynn & Gary Wasson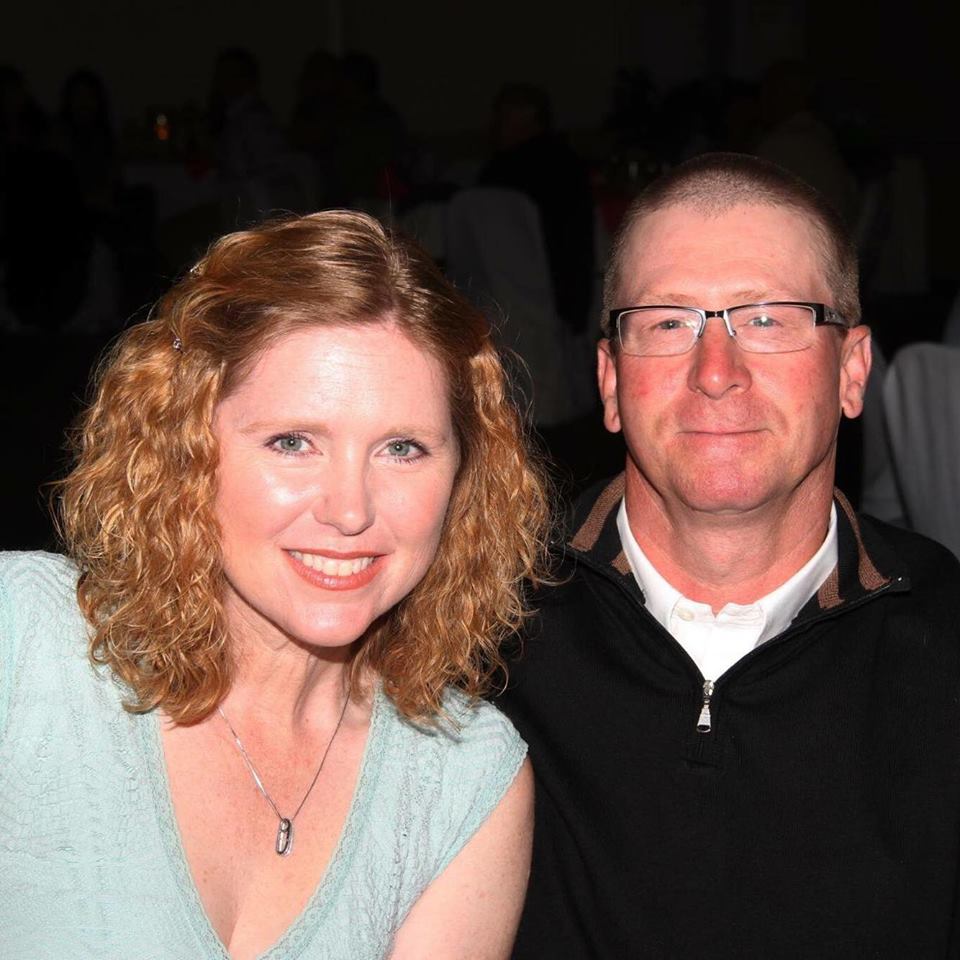 We volunteer because encouraging a sense of community at the shows is important to us. Being able to participate in a positive, welcoming environment is important for new and prospective members. Providing a way to connect socially encourages friendship and develops bonds that persist long after the horse show is over. This is what we believe contributes to a healthy, growing, strong organization.
Sherri Oswald & Rosita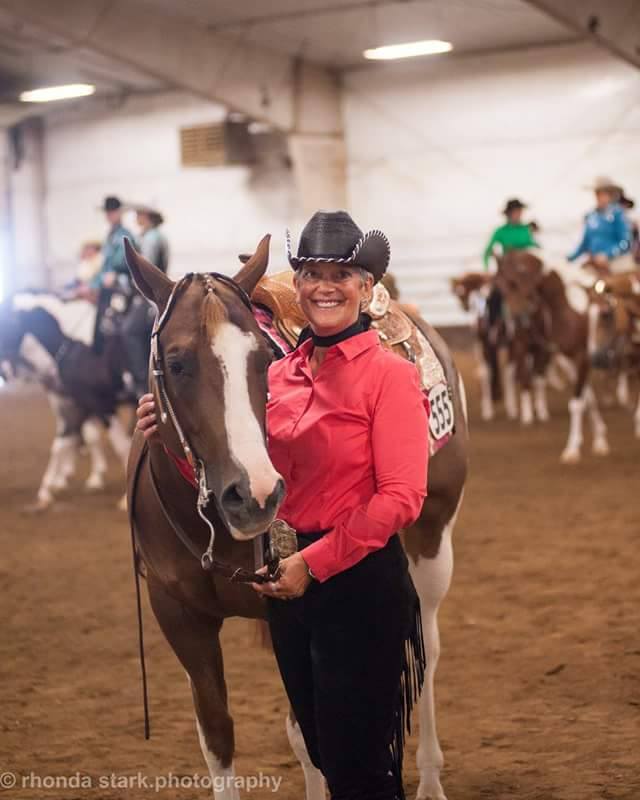 I absolutely love being a part of Minnesota Pinto!!! I feel very honored to be the Logowear Coordinator, as it is also a great way to get to meet and chat with exhibitors and members of our wonderful organization. MN Pinto is all about family, friends and fun!!!
Dr Kim Voller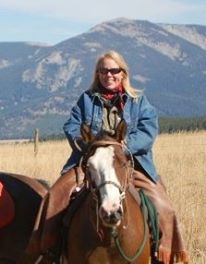 I volunteer with MN Pinto because of the people involved. The importance that the organization had and has in the type of people our kids have become and because I would like to see that positive influence continue for people and families in the future.
Renae Ross & Blue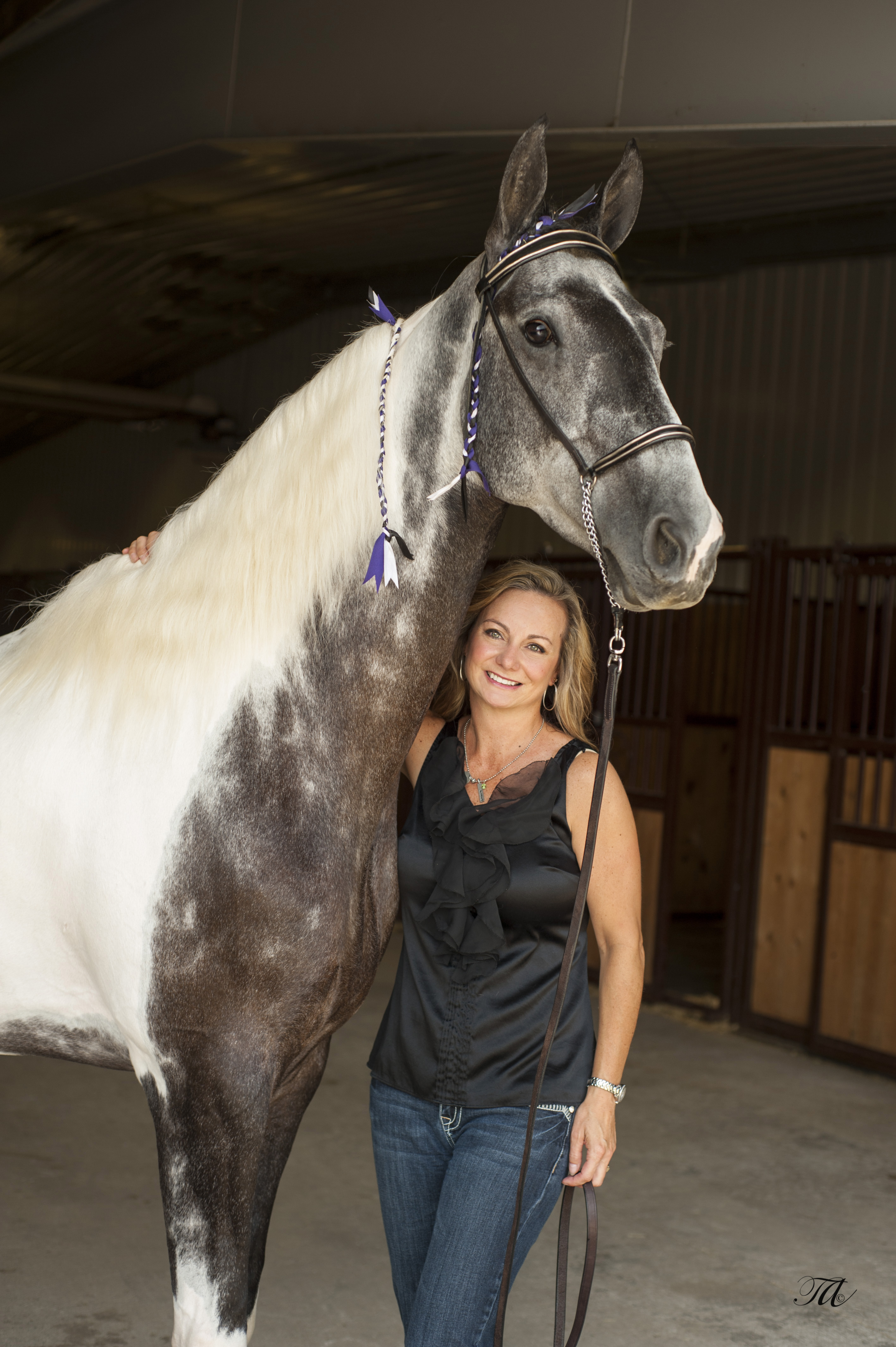 I volunteer because MPtHA is my heart felt hobby.
I know that the organization wouldn't exist or be the caliber that it is without all the great people that put time and effort into making it what it is. Its important to me to be involved and have input on how I think the organization can be the best it can be.
I have great respect for all those who give so much to make MPtHA a top notch association and feel its my responsibility to contribute to the group that brings so much joy to my life.
Tammy Nielsen & Belle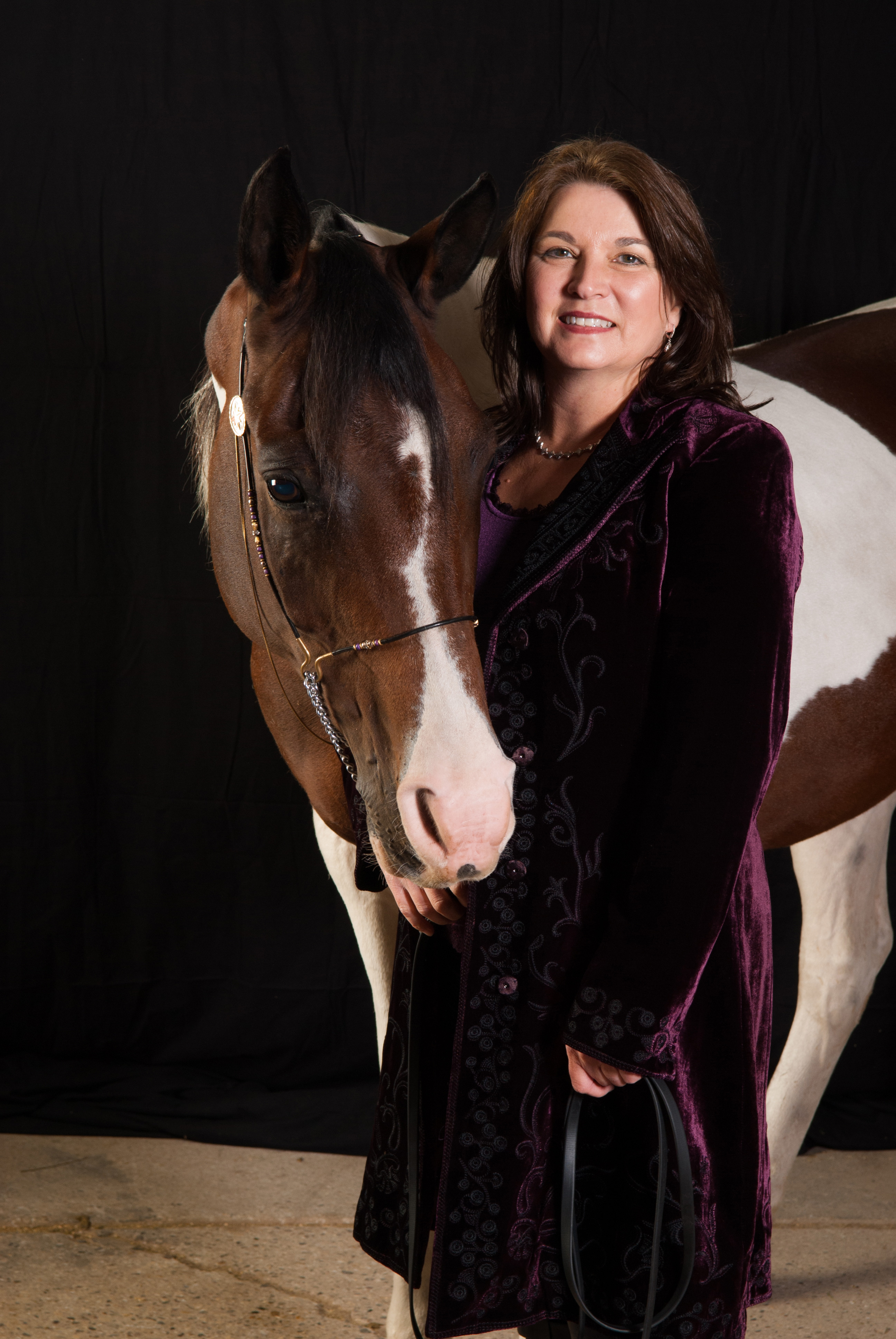 I volunteer with MPtHA as a way to give back to an organization that has enriched my life in so many ways. I am so thankful to be a part of this amazing group of people who have become my life long friends and extended family. I have worn many hats over the years of volunteering – Banquet Chair for several years, served on the Board of Directors, MN Horse Expo Co-Chair, Hospitality, and currently the Directory Editor. Each job brings it's challenges but the reward is in the smiles it puts on people's faces!
Tanner Bauman & Ranger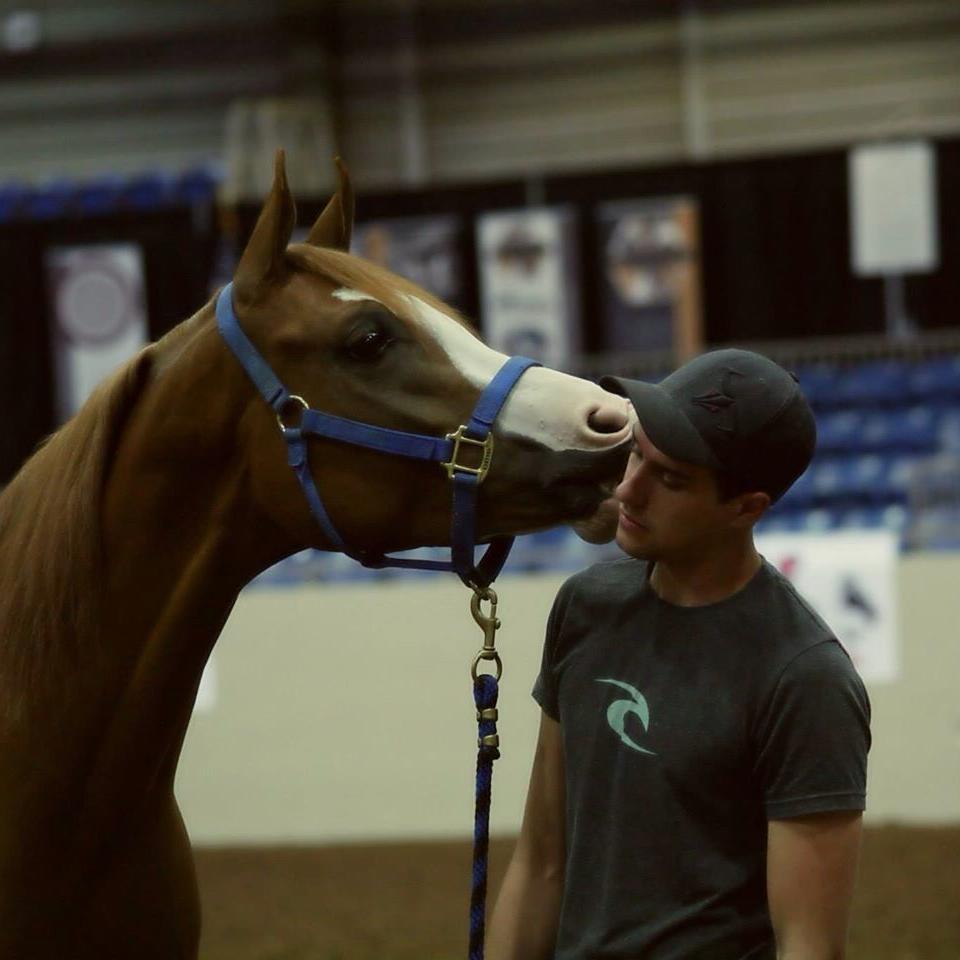 I don't have a specific job within MN Pinto, but I do a lot of little stuff….pick up and drop off deposits, papers, forms and supplies.  Help with the show dinners, drop off the empty food containers at Dobo's, just stuff that needs to get done that frees up other people.  Last summer, I helped at the Information Table at the shows, too.
I was on the MN Pinto Youth Board as an officer and also a National Youth Officer.  Pinto has been a part of my family all my life, it's where my friends are, even those I only see once or twice a year.
(thanks Pinto, for this great photo!!)
Karie Daudt & Sprat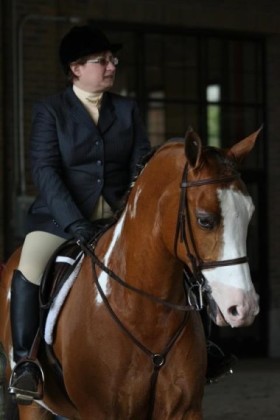 I volunteer for Minnesota Pinto as a way to give back. I believe when you get so much from a group of people and an organization it is important to take the time and return the favor.
Margo DiSalvo & Sweetness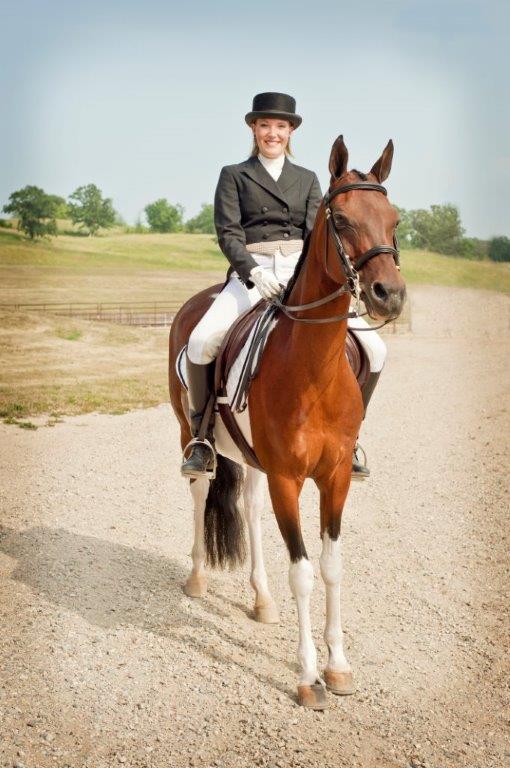 As a volunteer, I want to put my time towards an organization who's goals I believe in. Minnesota Pinto focuses on its members as a family by promoting friendly competition, planning group events, and education for all ages.
Mahlon Bauman & Perfect
I went back a ways, to find a photo of one of my favorite horses, Perfect. Yup, once upon a time, I showed too. As Cody & Tanner got more involved with showing, I gravitated to more of a show mom job and then had a lot more time to volunteer. I've been on the MN Board for a long time, held the President's job multiple years, and am now the Treasurer. I also head up the Public Relations Committee, so that MINNESOTA Pinto is visible on many venues. I get to work with amazing people!
Why do I expend time and energy with these groups? Because the Pinto Horse Association and MINNESOTA Pinto have the very BEST people, programs, and shows in the industry.
The MINNESOTA Pinto Board, Committees and all our volunteers work diligently to ensure that we have well run shows and events, and that we are represented with quality at every level. It's fun to work with other dedicated people, and to see that all our hard work creates a positive outcome. And, if you volunteer, you have a say in the workings of the Association.
Regina Woolson & Captain
I volunteer with MPtHA because I was looking for a way to get involved and contribute to the organization when I started showing seriously several years ago. What started as volunteering to coordinate for MPtHA at my favorite horse event of the year, the Minnesota Horse Expo, expanded into many more opportunities. As many of the volunteers before me have already said, our organization could not be as successful and enjoyable as it is without the many hours put forth by our volunteers.
I've volunteered in numerous capacities – MN Horse Expo, Board of Directors, Jubilee Show Committee, Banquet Announcer, Banquet photo slideshow coordinator, and assisted with many other projects throughout the years.
Kathy Zachmann & JR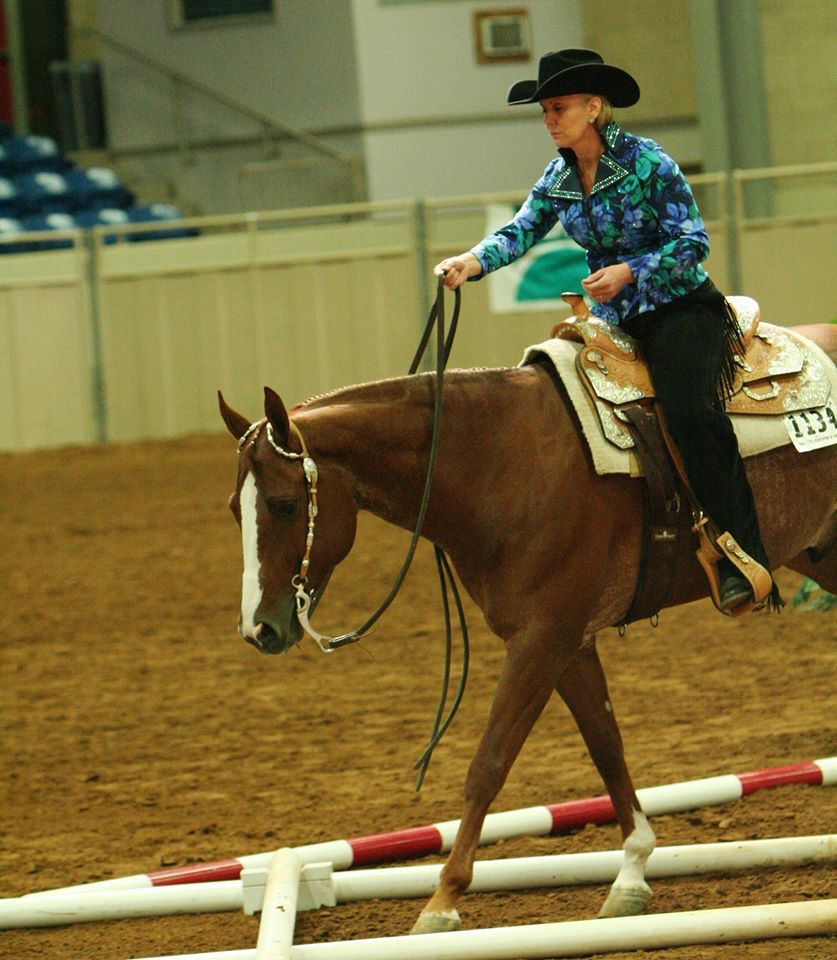 Why do I volunteer? It's simple; this is an amazing club with amazing people! I've volunteered in many roles and I encourage all of you to give it a try. The rewards are energizing!! Call a Board member, drop a line on our Facebook page, or stop in the office at a show, it's THAT EASY to get started!
Georgia Helvick & Sweetness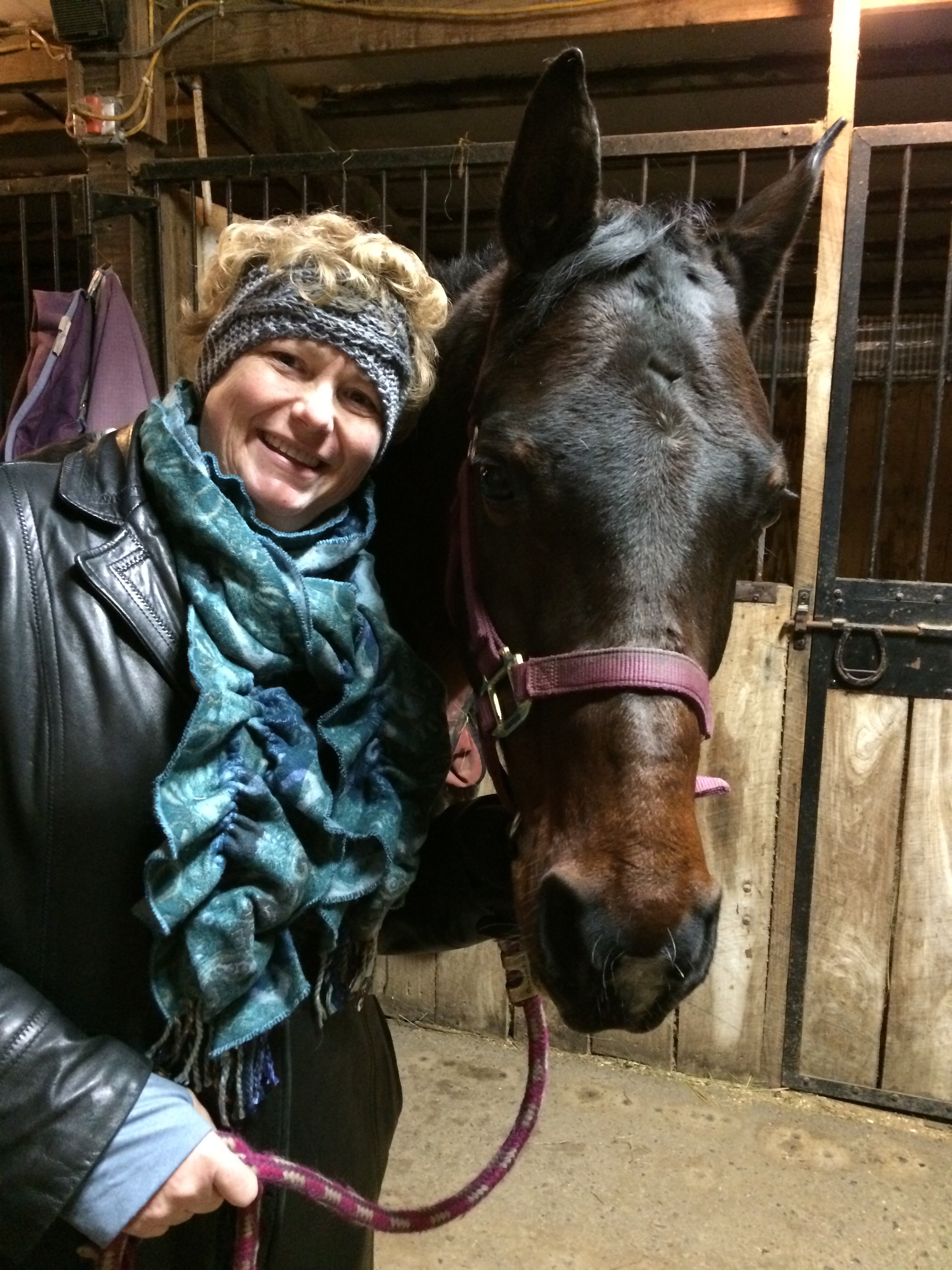 WHY NOT VOLUNTEER!:
You get to know ALL the MPtHA members.
You make lots of friends: young, old, hairy & furry.
AND, you get to give your two cents.
P.S. I had to borrow my daughter's horse for this picture because I don't have one of my own. I was just along to support my daughter and what a better way to use my time, than to volunteer while I was at the shows. It was a family affair!
Matthew May & Fandango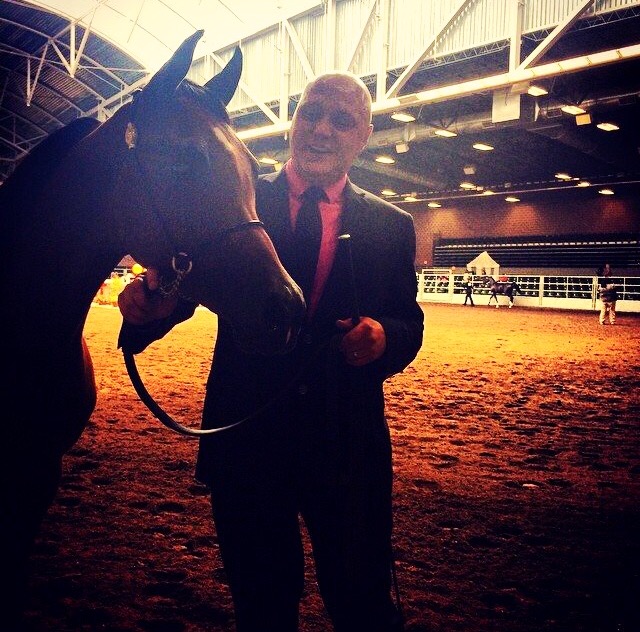 I didn't start volunteering because I wanted to do it, but it has been one of the best things I've done. I volunteer not because I always have the time, but because I enjoy it. I get to horse around with some great friends, and help make a difference. We make a living by what we do, but we enrich our lives with what we do.
Mary Noonan & Izaak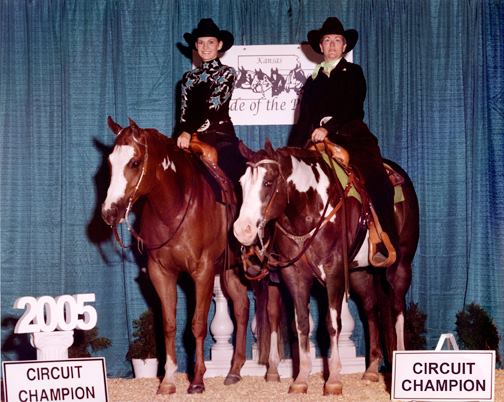 The camera shy lady on the right is our very own Mary Noonan, with Izaak (her daughter Becky is on the left). While Mary declined our request for a photo, we managed to dig one up, and we want to thank her for being our Judge Coordinator for the past 'many' years and for all her other contributions to MINNESOTA Pinto. Thank you, Mary!!
Brenna Voller & Zip
I volunteer with Minnesota Pinto because this association has given me so many great experiences, wonderful friends, and thoughtful life lessons and to give back means that more kids can grow up and make some of the same wonderful memories. I have been involved with the association for as long as I can remember from starting out in walk trot and going all the way through 14-18 where I was an officer for the youth team and then onto a national officer position. This association focuses so much on the family friendly aspect of showing and is so inclusive that you can't help but feel compelled to volunteer and help out whenever you can. I hope that my kids will be able to grow up with this association and have many more wonderful experiences!
Kirsten Skillings & Ninah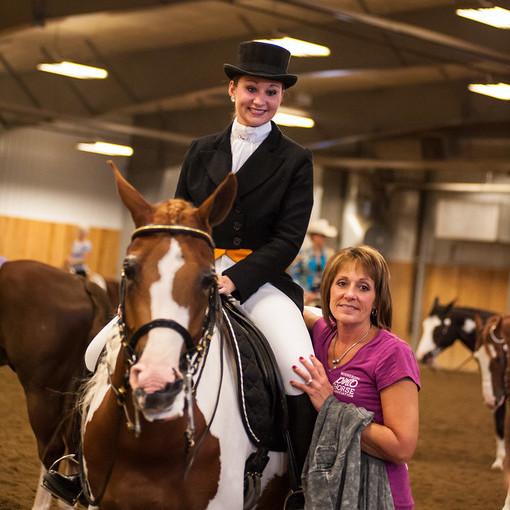 I have been volunteering for MN Pinto for several years for countless reasons. The primary reason was I wanted to become more involved with an organization that clearly supported youth members because my daughter Carly began showing. Both she and I have gained some life long friendships since entering the world of showing Pintos. I also wanted to learn more about MN Pinto and becoming a volunteer was an excellent way to accomplish this.
I began showing horses when I was 6 years old. I wanted nothing more than to provide the same opportunity for my kids should they ever become interested. And I am so thankful one of them did because it opened a door to a world of endless rewards and wonderful memories.
There have been so many great "horse" people in my life which have helped us to get to where we are today. The involvement with MN Pinto has also provided great learning opportunities, fun events, and making memories with a wonderful caliber of people which is why I remain a proud volunteer. I am grateful to have been a part of such an organization for all of these years. Thank you MN Pinto!!!
Kathy Linn & Shawnee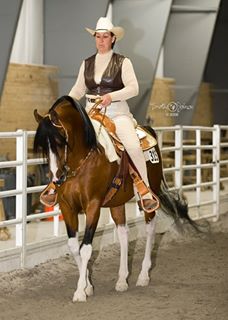 I volunteer for Minnesota Pinto because it is gratifying to give to an association that gives back to it's membership. I have met so many people since I decided to breed and show colored Pleasure Type horses! Minnesota Pinto is a leader in the horse industry, and I am proud to be a part of this organization!
Peter Frost & JR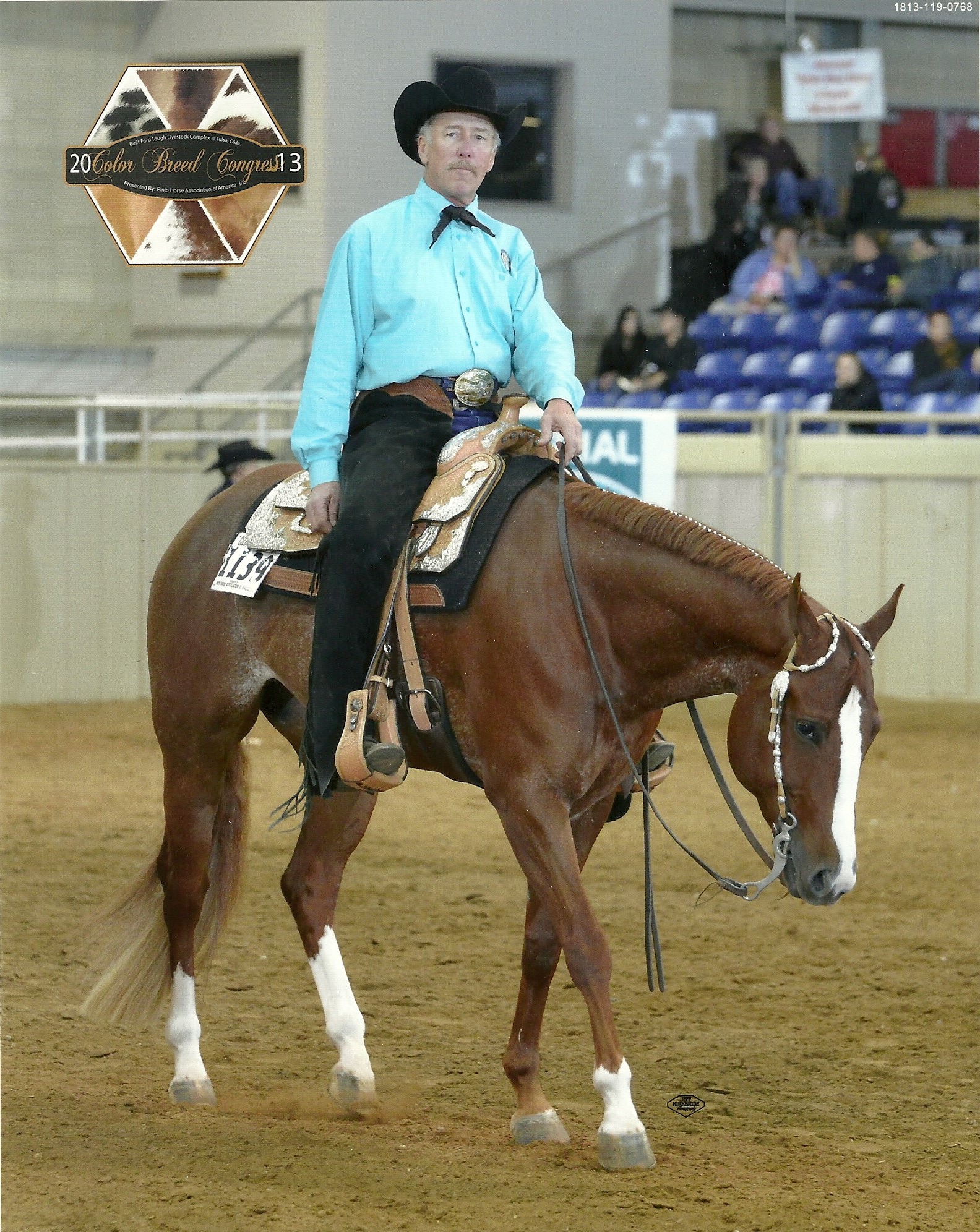 Volunteering is a great way to get involved with how the club works and what you can do to keep it going strong. It also provides an opportunity to give back.
Eisinger's & Hitch, Kat 'n Rodney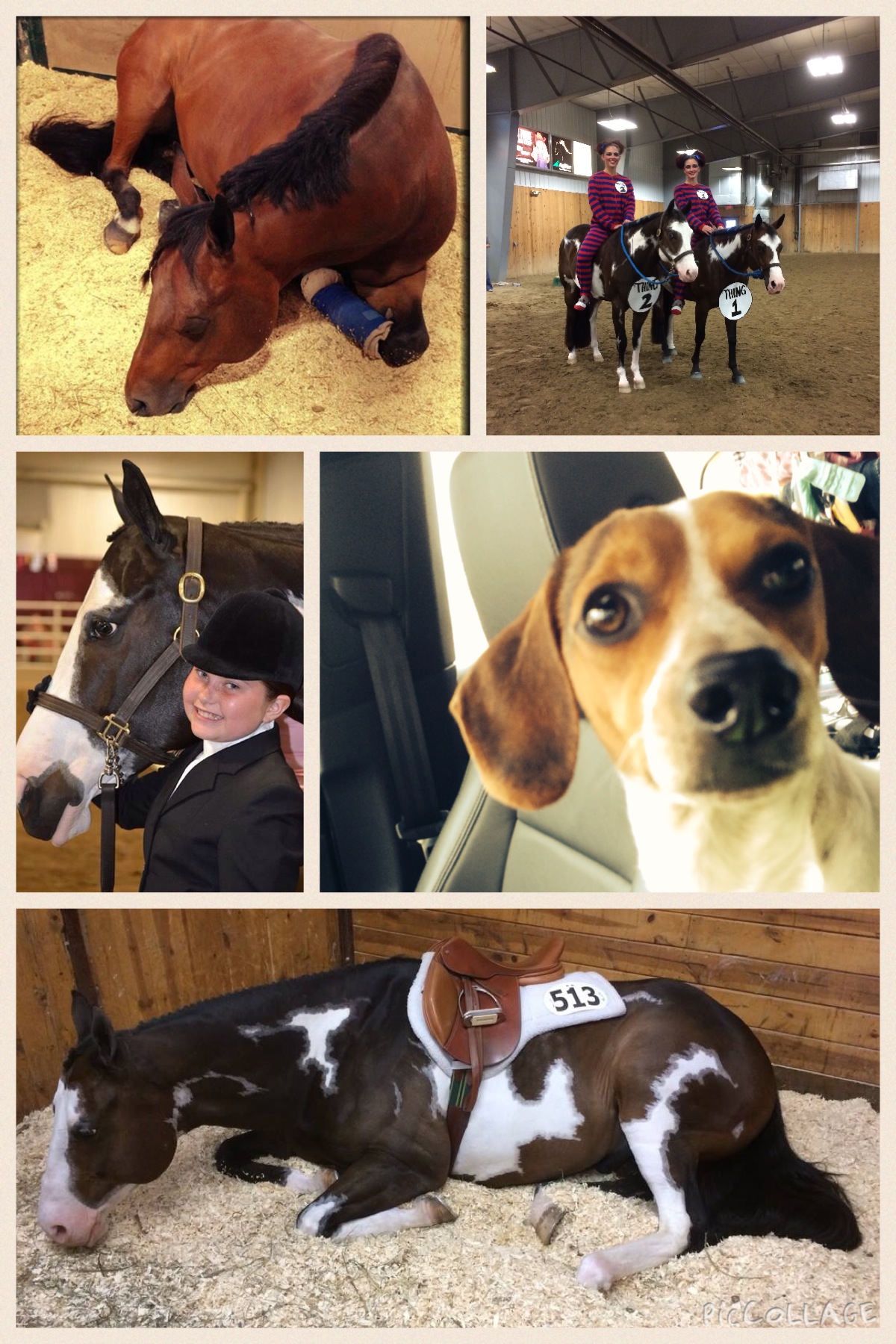 As a family that has grown up in the "horse show world," we feel lucky to be able to give back to a sport that has made our lives rich. Without volunteers we wouldn't have the shows and events we enjoy so much today. A family has to work together, which is exactly what our volunteers do for their equine family friends. We are so glad to be a part of such a wonderful family and hope to continue giving back to bring others the same experience. Bridget, Bailey & Sydney Eisinger
Kari Kay Berg & Faith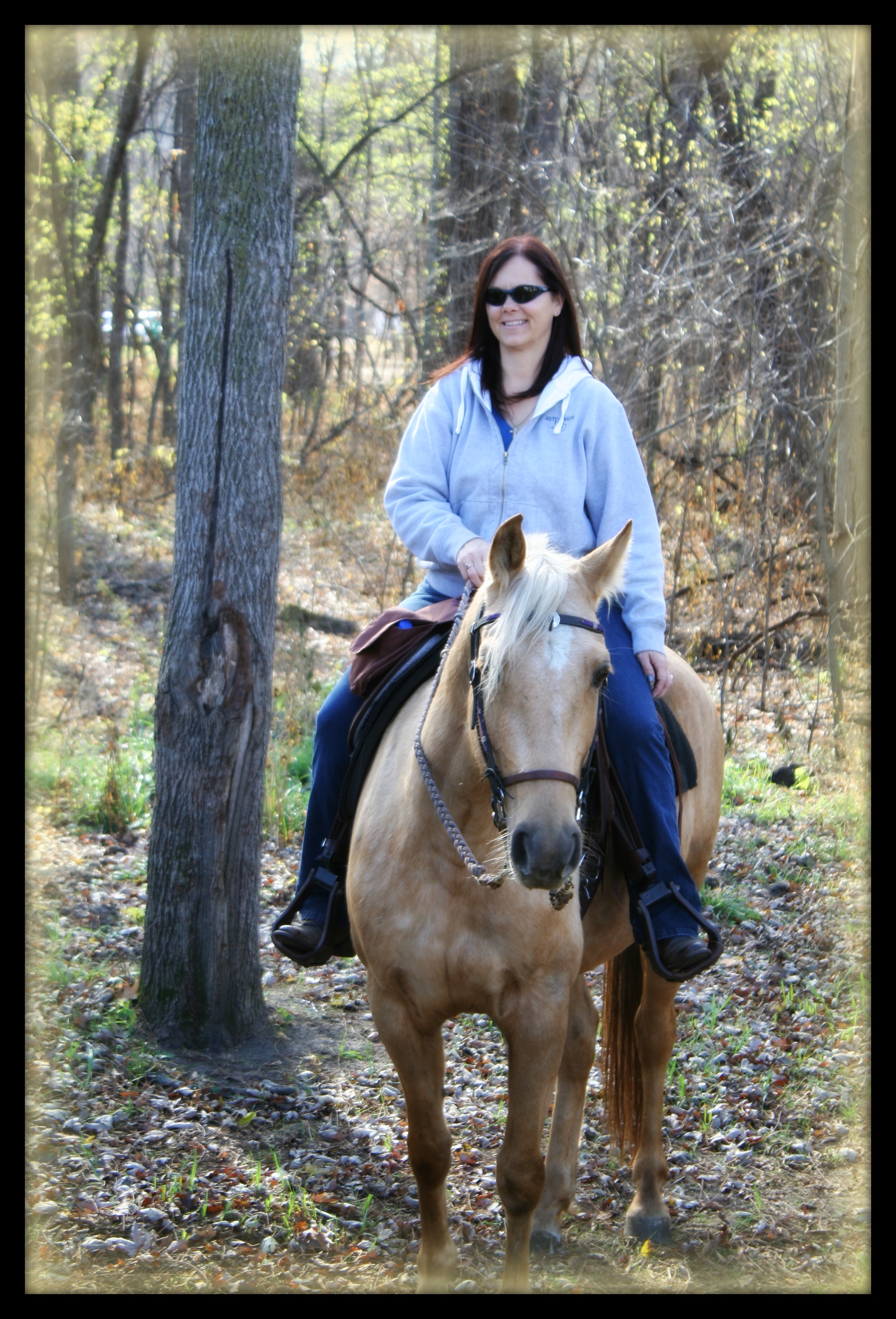 I volunteer for Minnesota Pinto in part because my girls are very involved with showing in Minnesota Pinto. As a parent I feel it's a nice contribution to a wonderful family orientated organization that has given so much to me and my girls. I also know that there are many jobs that need to be done so that things can continue to run well and smoothly. The more help given the less work for everyone. It also helps keep me involved and in the know and I like that too.
Erin Kodesh & Monet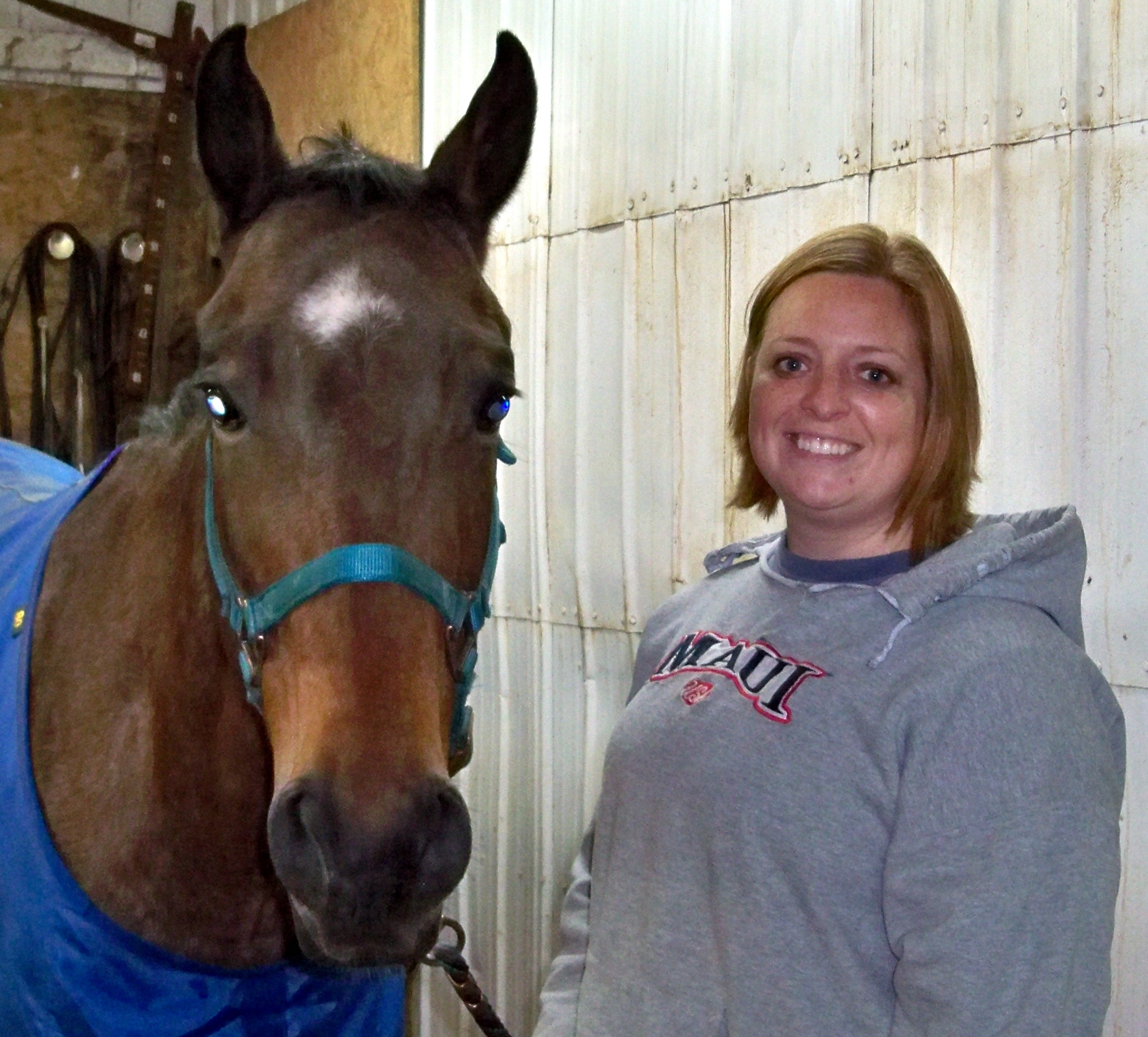 I became involved with Minnesota Pinto in 2011 after I began training and riding with Frost Training in Maple Plain. The Minnesota Pinto group quickly became a second family, and a way of life for me. The support, friendship, and camaraderie that is intertwined in this group is like none other. I realized that this group is where I wanted to be, and where I wanted to dedicate my free time. Starting in 2011, I was able to coordinate an Ice Cream Social event for each August show, the proceeds going to the YOUth team. I've also been involved in putting together year-end award gift baskets. MINNESOTA Pinto gives back: in friendship, family, fun and a little bit of crazy. Who wouldn't want to be a part of this amazing group? I certainly love every minute of it.
Vonda Morrison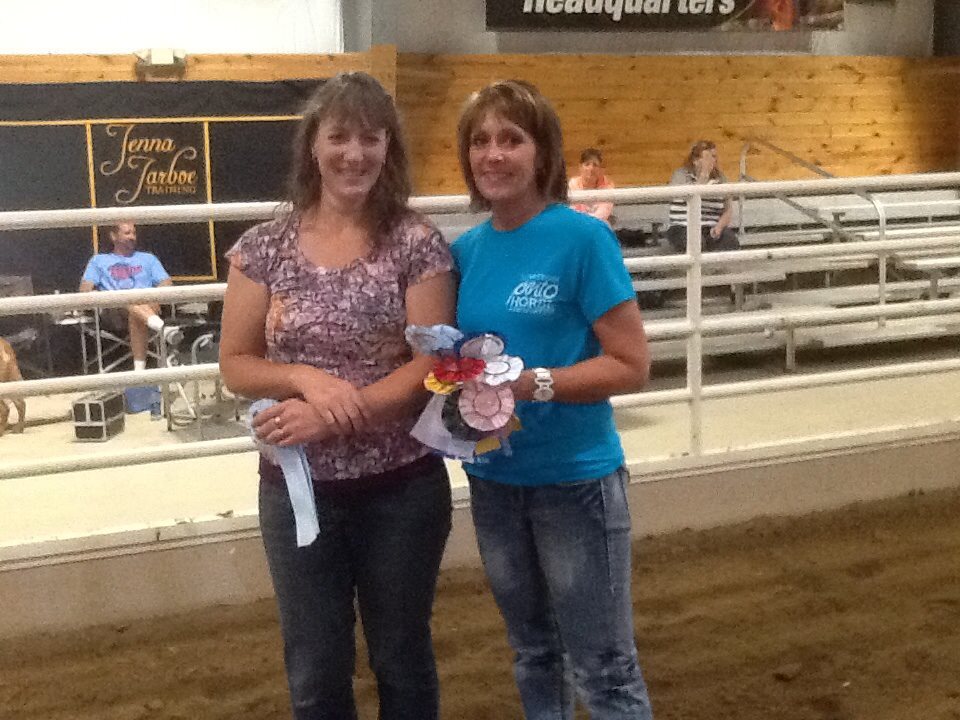 My girls began showing about 4 years ago, at that time the extent of my volunteering was to make sure my girls were tacked up and ready to go into the show pen. They have learned a lot, gained some new friends and a wonderful "horsey" family. I began volunteering this past year in order to give back to an organization who has given so much to us. This past show season was a little crazy and it was a blessing to have such wonderful caring and giving people around. I too have learned a lot and have enjoyed the friendly family atmosphere of MN Pinto. I can't wait for this next year!
Tracy Miller & Trace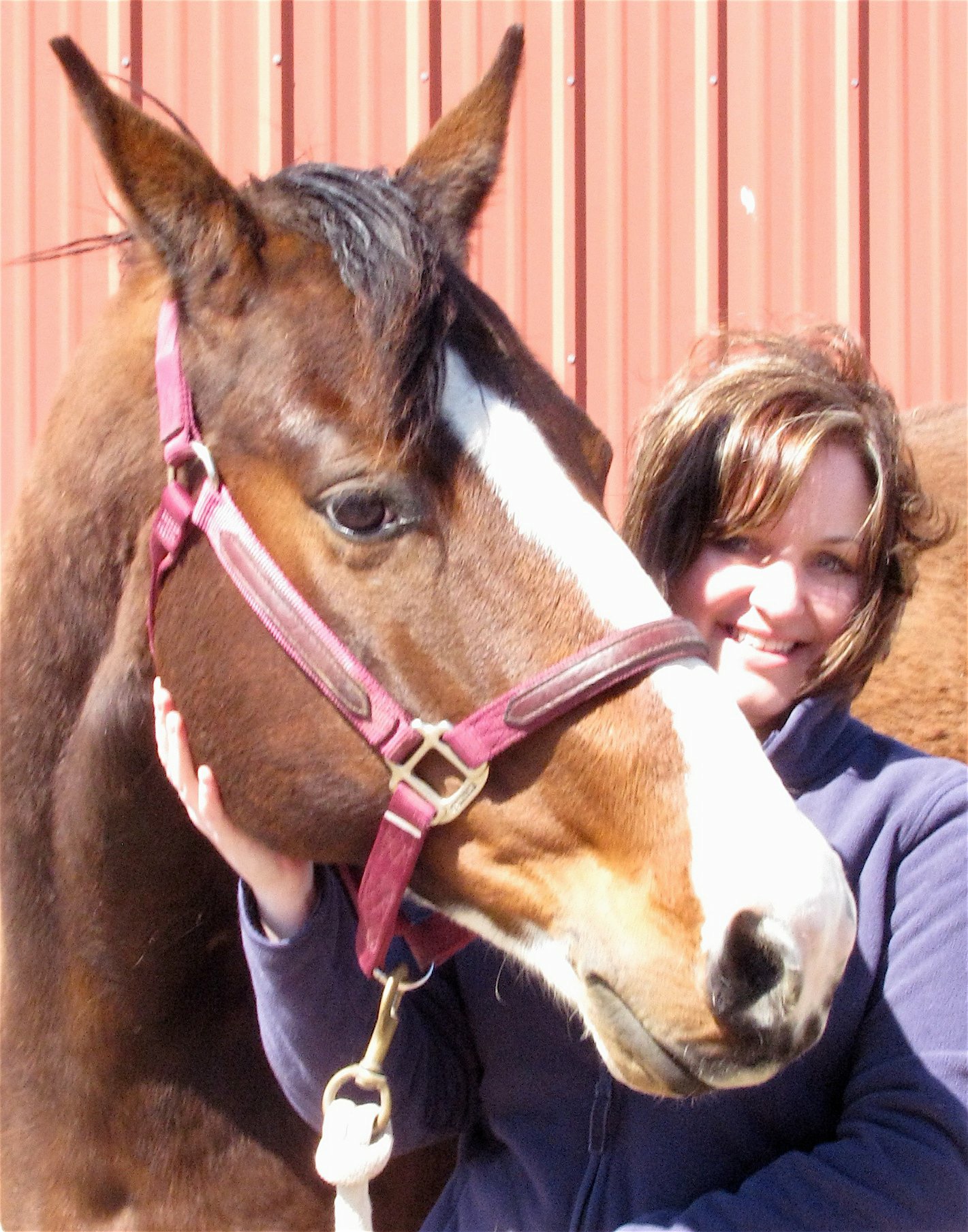 My daughter, Maddi, fell in love with horses at a young age and I happily followed! It has been a wonderful experience to be part of her passion and enjoy the people and competition available through MPtHA. I volunteer to support the club so we can keep providing the friendly and fun atmosphere we so love.
Cris Stetler & Vana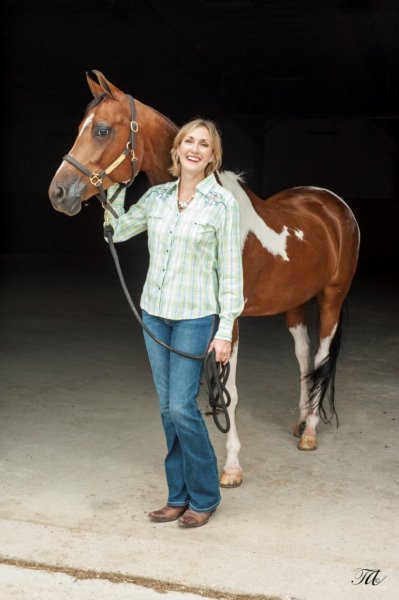 Why do I volunteer with Minnesota Pinto? I've thought about this a lot the last couple of weeks. I first volunteered because someone asked me to be on the Board of Directors. I don't remember when exactly that was but probably nearing twenty years. Oh. My. Gosh. I volunteered because they needed me. And it's nice to feel needed. I continued to volunteer, holding a variety of positions including Secretary, President, Futurity Chairperson, Banquet Chair and I've been on many committees. I continued to volunteer because I liked the people I was working with and really liked to see the results of what we worked on (some was good, and some wasn't). As President, I have the advantage of being involved with nearly all of our volunteers and committees on some level and we have great volunteers. I really enjoy working with all of them/you. It's been rewarding to see the positive changes and growth in Minnesota Pinto and I love working with smart, competent people with the same interests. One of my life mottos is, if you don't like something, don't complain about it, do something about it. Being involved with Minnesota Pinto is a way to have your voice heard. It's also really important to me to continue to have a strong club to show the horses that I love!
Melissa, Morgan & Madison Brown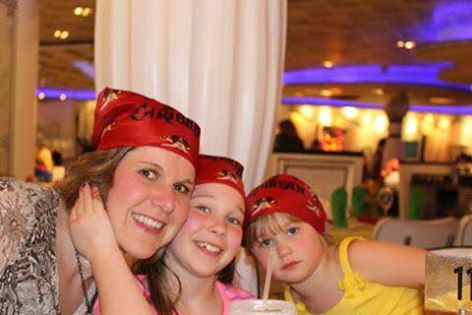 Madison and Morgan said they volunteer so they can hand out ribbons to their friends and each other. I volunteer to give something back to a club that has given my family so much in the two years we have been involved with the MN Pinto Horse Association. We were welcomed with open arms and have had such a great time with all the wonderful people that it is easy to lend a hand to help out.
Gary Carlson & Jerome Bauman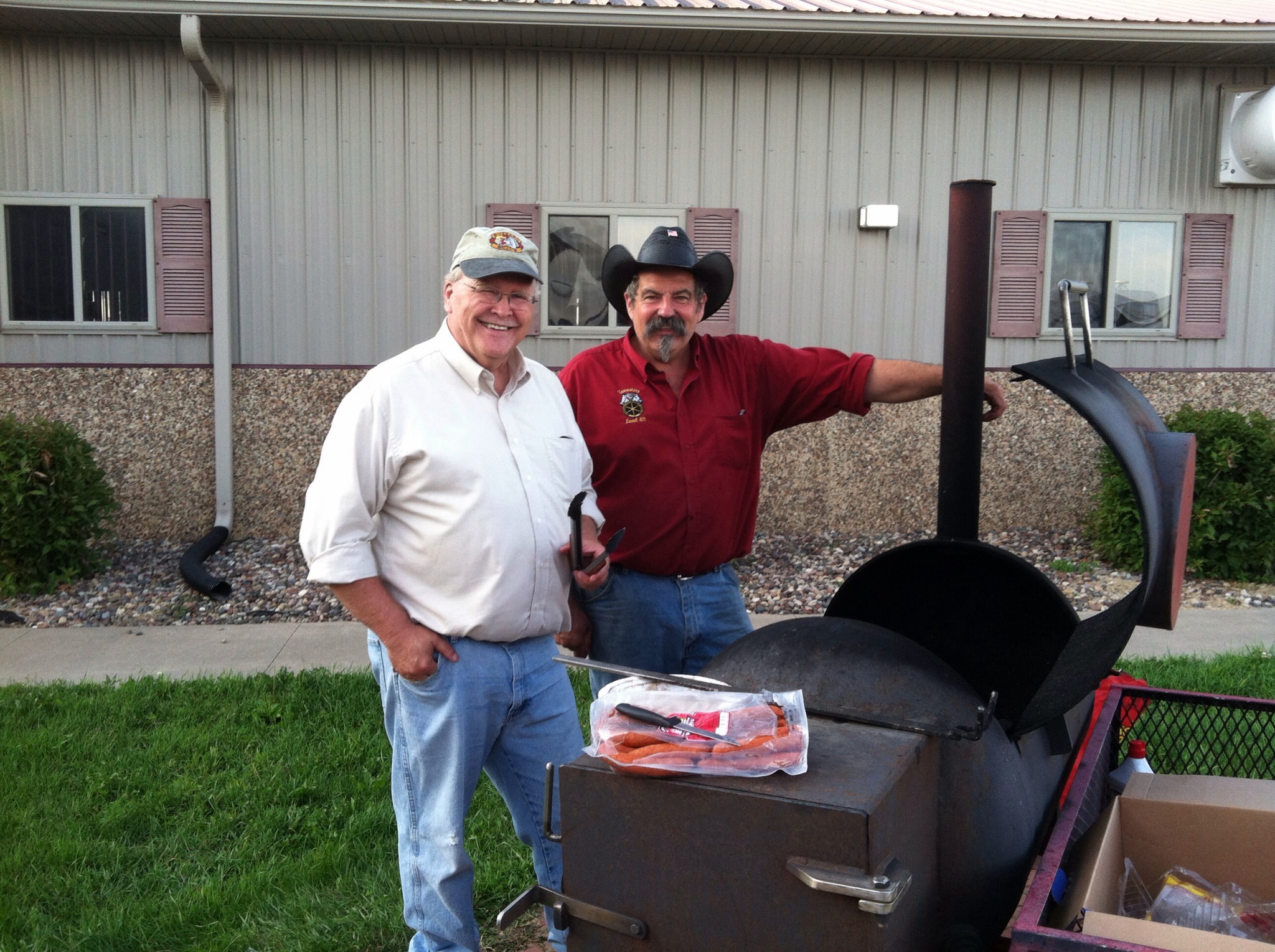 Well, to start , I have been associated with this charter for quite a few years. Until recently, I lived in Stewartville MN, (SE MN). I found it too warm down there so I recently moved up north to Grand Rapids MN where I am in the Purchasing Group at Terex. My work life is Purchasing and Materials Management. I believe I have been involved in just about all the many functions it takes to keep things rolling with a charter (past president, ring steward, announcer, show manager for a few). Lately, I was able to do some wicked grill work with my buddy Jerome as well! I can tell you right now what keeps me doing these activities, it's the friends, and friendly people that make up Minnesota Pinto. I don't know what more to say, then THANKS for being such a great Charter! ~ Gary Carlson
Hey peeps — my jobs in MINNESOTA Pinto are varied. I am on the Nominating Committee with Kim Voller, and for the last few years, have done a lot of behind the scenes work on the show dinners. (That means I get to drive three hours to the shows with the smell of freshly baked buns in my car!) Gary & I team up on occasion to grille, and I enjoy the camaraderie of having a 'guy' task with him. MINNESOTA Pinto has been a part of my life for over 30 years, and I appreciate the time and talents that many people contribute to make us successful. While our shows are big and well run, it really is the people that make the club special! ~ Jerome Bauman
Julia Charlsen & Star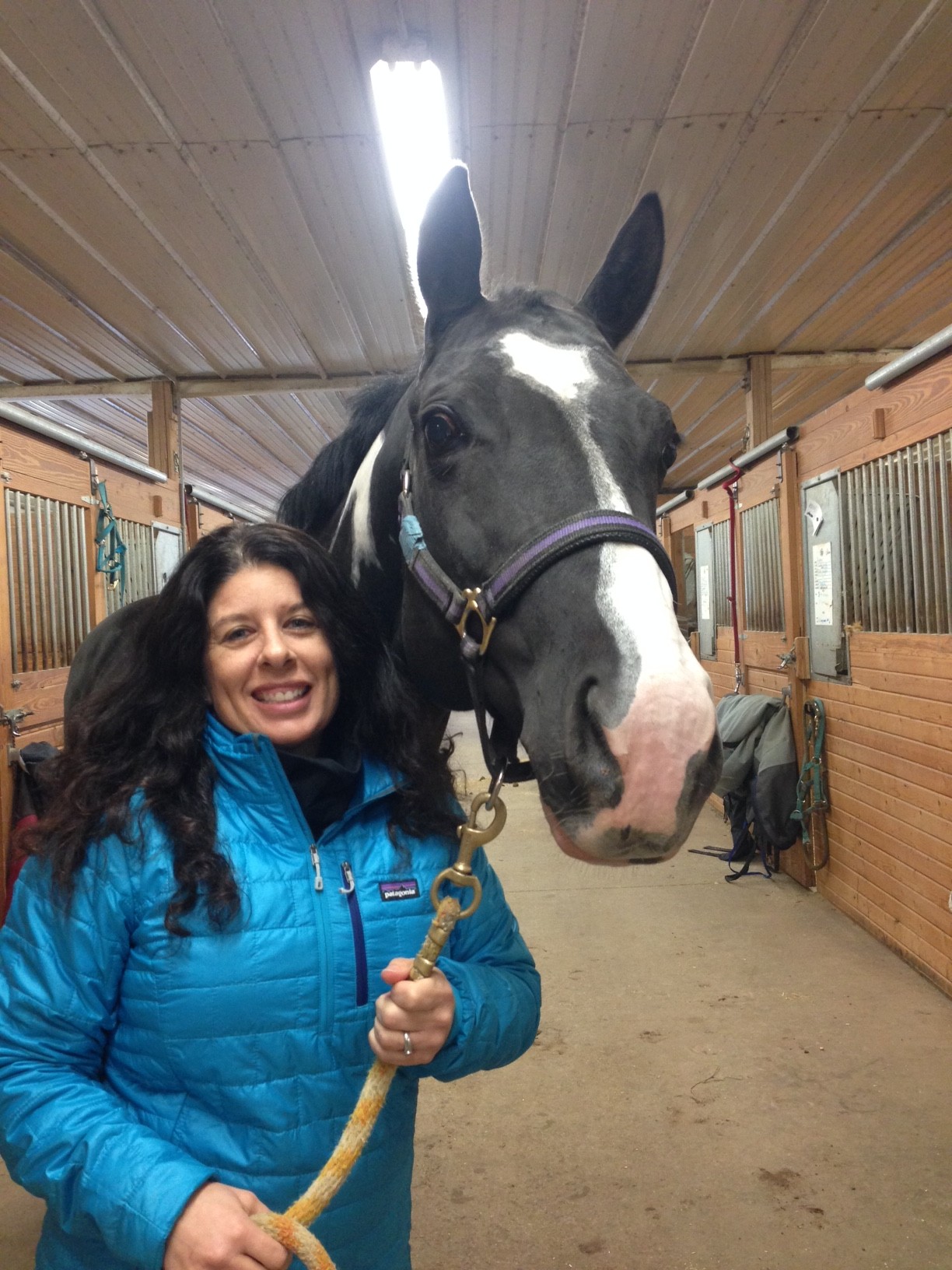 Why Do I Volunteer?
MN Pinto gives so much to my daughter…a welcoming place to be among others who understand her passion, best friends, a sense of belonging, a safe place to TRY to be your best, a reason to work hard and practice, and affirmation that hard work and practice will pay off.
When one receives a gift as such, the natural response is to give in return. I volunteer with MN Pinto to give back so that my daughter and other youth have the opportunity to make show season memories that will last a lifetime.
Maddi Miller & Dancer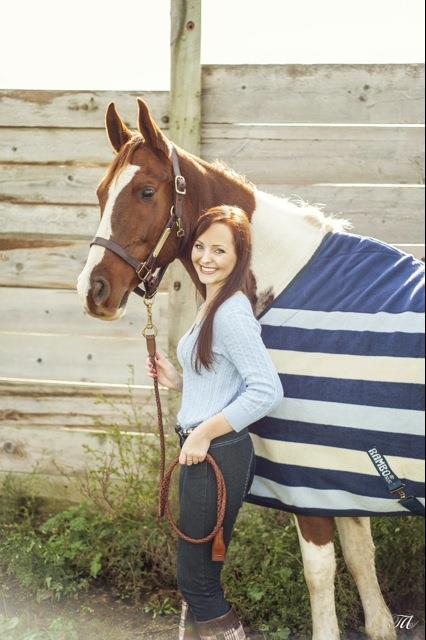 I have volunteered with MPtHA for several years, particularly with the youth team. I love being able to give back to an organization that has acted as a family to me since the very start! Volunteering offers a chance to meet new faces and try new things—two items we LOVE over on the YOUth side, where I am currently serving as President. I am so thankful for an opportunity to help lead such a great group of kids and learn things from them at every show.
Katy Morrison &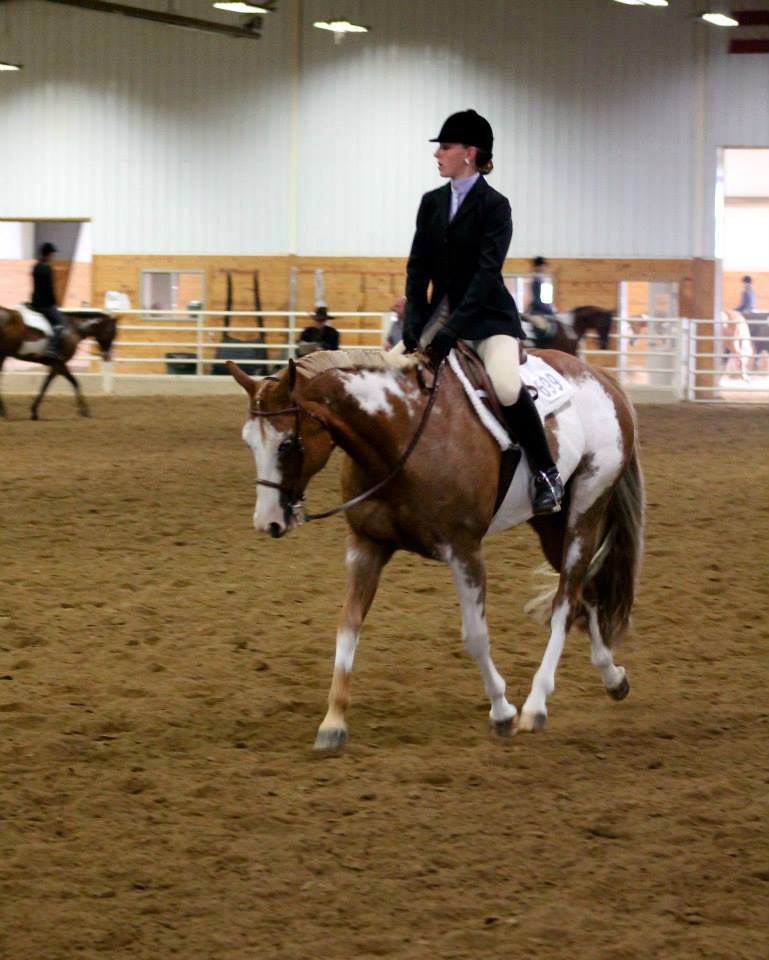 This is my first year actually volunteering for MPtHA and I can say I'm loving it! It's been 4 amazing years since I have joined. I've always been in the background watching everyone have fun and this last year I finally wanted to have fun too. As secretary for the YOUth I get to learn a lot more about the members and what they like to do. Everyone is so friendly and I hope it stays that way forever.